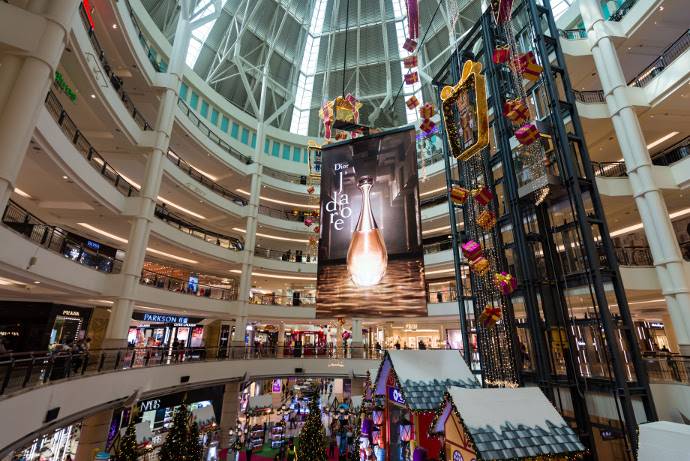 N
anoLumens announced the 
Suria KLCC Shopping Mall
installation in Kuala Lumpur, Malaysia, as a winner of its 4th-annual
NanoLumens Crystal Nixel Awards
in the international category.
The award that recognizes outstanding creativity in the design and implementation of a compelling LED visualization solution.
According to NanoLumens Vice President of Global Marketing and Business Development Joe' Lloyd, the 2019 awards recognized the firm, EWSB and Suria KLLC for sculptures within the Suria Shopping Mall installation.
"Over the last four years the Crystal Nixel Awards has consistently recognized outstanding achievement in the design and implementation of compelling and engaging LED visualization solutions across all vertical markets," Lloyd said.
"The 2019 winners take LED visualization to new creative heights in the transportation and retail channels, setting a new standard for their peers to follow. We salute everyone involved and we look forward to working with these forward-looking teams on many more projects in the future."
The Suria KLCC Shopping Mall in Malaysia is an impressive 6-story shopping experience located at the foot of the famous Petronas Twin Towers in the Kuala Lumpur city centre. Built in 1999, the mall quickly became the talk of the town, as well as one of the most spectacular shopping malls in the world, featuring a concert hall, an oceanarium, an art gallery and a children's science discovery centre.
The recently added NanoLumens display installed in the mall's Centre Court area is the world's largest double-sided LED display, according to Lloyd, and it's the first NanoLumens installation in Malaysia.
The displays feature a 19' x 33.5' Performance Series 4.7mm double-sided display that rotates 359-degrees, uniquely showcasing many of the mall's upscale consumer brands such as Gucci, Chanel, Calvin Klein, Christian Dior, Ralph Lauren and Apple. "It's a show stopper in every respect," Lloyd emphasized, "and it's helping the mall to really present its most iconic brands in the most completely compelling and engaging way possible."
According to Lloyd, the Suria KLCC team first saw NanoLumens displays in action at Changi Airport in Singapore and were immediately impressed by the quality of the displays.
"On top of that, the ultra light weight of our displays really became an important part of the decision-making process," she explained. "The display hangs in an area where more than 100,000 people pass under it every day — making safety a critically important consideration."