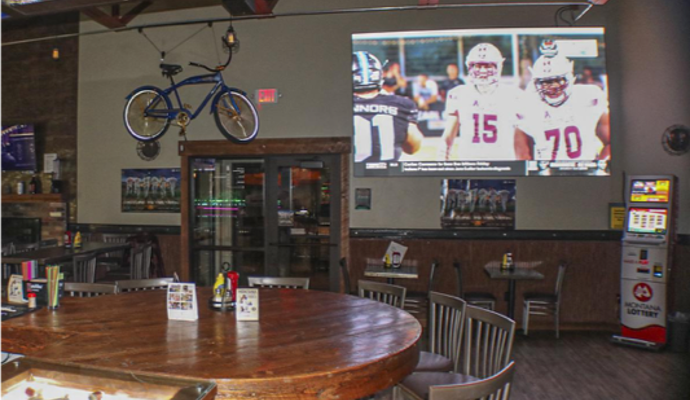 Tilt Würks Brewhouse & Casino in Montana, US, thrives on live sports, as well as bingo and trivia nights while delivering locally crafted beers in a friendly atmosphere.
As college basketball's March Madness approached in 2019, Tilt Würks owner Denis Leidholt leveraged the occasion to upgrade the location's main but out-of-date projection system with a more efficient and eye-popping fine pitch 2.5mm LED display from market leader NanoLumens.
"Tilt Würks Brewhouse & Casino wanted to separate our venue from all of the other sports bars, not only in our area, but in the entire state of Montana," Leidholt said.
"During the evaluation process we had the opportunity to visit NanoLumens' showroom in Las Vegas, and also several of the venues where they had installed their LED displays."
"We were quite impressed with the professionalism of the NanoLumens personnel, and the quality, warranty, and stunning visual effect of the display."
According to local technology integrator Randy Walter of Be L.E.D., all of the brewery's top events — sports, bingo and trivia — require a large video screen that is clear, bright, viewable from every angle and totally hassle-free to operate.
"With the video-based events being such a major draw for Tilt Würks customers, the class-leading NanoLumens display is an ideal solution," Walter said. "Game nights are big money makers for the establishment, and projection systems have high costs of maintenance, mostly for frequent bulb replacements."
"With this 2.5 mm pixel pitch LED display, there are no maintenance costs at all. It even has the industry's best warranty, offering six full years of down-to-the-pixel protection, so the owner has certainty the display will work reliably and receive free replacement parts if any are necessary."
There's also the 'wow' factor to consider, as both the integrator and owner are confident Tilt Würks is the first brewery in Montana to deploy a large-format NanoLumens LED display.
"It's fun to watch regular customers who haven't seen the LED display yet or new customers when they walk in," Leidholt added. "They stare at it and then turn around and say, 'Wow, look at that picture! The colors are amazing! Unbelievable!'"
Walter said he didn't consider or price any other display technologies or manufacturers, armed with the knowledge that NanoLumens is a U.S.-based company making the best LED displays available."
"Further, the support NanoLumens provides, including sending a tech support member to assist with installation, is unrivalled by any other display maker.
"It's an added draw for customers, all on its own," he added. "They simply can't get this experience anywhere else in the area, especially not at home, and that elevates the brewery above its competition. Whether its fan-favorite trivia night or a split-screen of two live sporting events, everything is crystal clear. The owner wanted to be the first in Montana to use this cutting-edge technology, and his customers love it."
Tilt Würks' system uses a Novastar video processor to relay HDMI signals and provide split-screen capability. Video sources include a DirecTV receiver for live broadcasts and two PCs for trivia and bingo programs.