Mindstec specializes in the procurement and distribution of high-end audiovisual solutions. Mindstec Solution Day was held early in October at the Mindstec showroom. Guests, such as actress and emcee Kaki Leung, participated in a unique journey that showcased the latest offerings from Mindstec which integrate the home, retail and commercial sectors.
Smart homes and offices are obvious trends in the market with more and more real-life applications creating immense business opportunities with control and automation technology. Mindstec demonstrated RTI's central control system and iLight's lighting system which operate all electronics quickly with one touch.
Intelligent Hospitality and Residential Solutions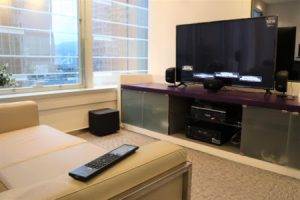 With the use of RTI central controllers, media systems, lighting, drapes, temperature and security comes under one control at the users' fingertips via wall-mounted or tabletop touch panels, and even via smart devices. RTI control systems are widely applicable to any residential, commercial or hospitality environment, and even luxury yachts.
By automating and simplifying the management of data within the lighting network, iLight lighting solution provides greater control over a building's performance. iLight not only has an elegant control panel that can dim and control the lighting, but connects to the Building Management System (BMS) to control the interior and exterior lighting of the building, as well as to monitor the air-conditioning, network, audio-visual and security systems, to create an efficient and comfortable environment.
Creative Retail Solutions
Creating new ways to delight customers by improving customer experience is the new frontier of business differentiation and has become a competitive advantage in the retail industry. Mindstec also showcased a variety of creative retail solutions including the Realfiction 3D holographic display and Datapath video wall management system. Both of which can be applied to different scenarios at retail stores or any business events.
Realfiction 3D holographic displays allow marketers to present products with an eye-catching 3D holographic video. It not only shows 3D animations vividly, the animation can be changed responsively and be triggered off the TV Wall to display relevant product videos, when visitors pick up a corresponding box placed around the display.
In addition, Mindstec also showcased a video wall management system with the ability to rotate, crop, upscale and mirror content for any digital display configuration. Datapath Display Wall Controllers allow infinite creativity with the ability to splice and overlap any region of the output image allows any mix of monitor orientations, giving users the freedom to create an unlimited multi-monitor display canvas.
Commercial Solutions

Collaboration technology has quickly become a necessity for businesses in every industry. Mindstec brings different kinds of modern commercial solutions including GoGet's Room Booking System, MTC collaboration tools and interactive displays, as wells as T1V Interactive Collaboration Platform to boost business performance.
A Room Booking System is an essential tool in a corporate environment for raising productivity by centralizing room scheduling. GoGet's Room Booking Systems offer a professional, modern and cost-effective technology with instant room status preview and booking, eliminating conflicts of overlapped bookings and ensuring efficient use of rooms.
MTC 4000 is a collaboration tool that facilitates ideas sharing and allowed users to connect their PCs, tablets or smartphones simultaneously, while 1 user can mirror his/her screen as the main screen in real-time. With MTC-4000, you can work smarter without any cables. On the other hand, T1V ThinkHub is an interactive collaboration software designed for multi-touch, multi-user, and multi-application with interactive display. Users can share their ideas on a single screen for brainstorming and presentation which is no regional limited.