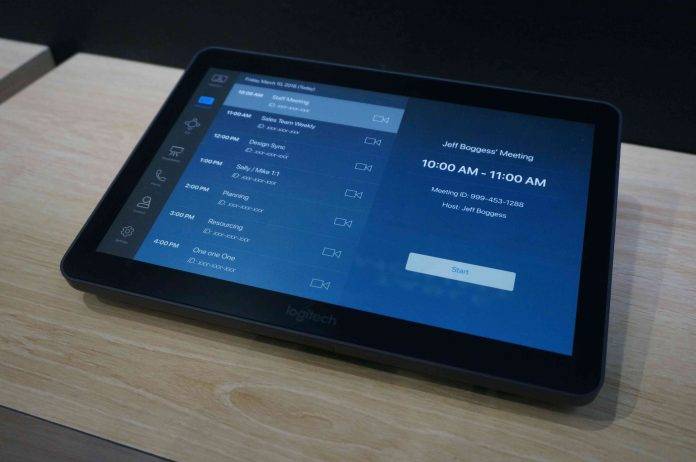 Logitech has introduced Logitech Tap, a touch control display that makes collaboration rooms easy to deploy and use. Tap is part of pre-configured room solutions for major collaboration platform providers such as Google Hangouts Meet Hardware, Microsoft Teams Rooms (formerly Skype Room Systems), and Zoom Rooms.
Like other Logitech conferencing equipment, Tap is built on open standards, enabling a broader set of integrations, for example with interactive whiteboards, room control functions, and more.
Tap simplifies the deployment and use of video conferencing in any meeting room. Coupled with intuitive software from leading collaboration service providers, it's easier than ever before to deliver functions like one-touch start, calendaring, and seamless content sharing.
"With Tap, Logitech is tackling the meeting room UI problem head on by offering a low profile, enterprise-ready universal controller that works with any computer platform and collaboration app, yet is cost-effective enough to fit almost any budget," said Ira M. Weinstein, Managing Partner at analyst firm Recon Research.
As an integral component of Logitech Room Solutions, Tap couples the purpose-built utility and robust build quality of a meeting room touch control panel with the affordability and flexibility of a tablet.
It delivers one-touch video calling simplicity for users in an IT-friendly design ideal for mass deployments. Logitech Room Solutions with Tap include all necessary components in one package: the Logitech Tap touch controller, a small form factor computer with room-optimized video conferencing software from Google, Microsoft or Zoom, and a Logitech conference cam.
Featuring a 10.1-inch touchscreen, HDMI input for content sharing, and robust cable retention, Logitech Tap is designed and engineered for reliable convenience in the meeting room. A range of table, riser and wall mounts offer tremendous placement flexibility, while in-wall rated cabling enables topologies and room layouts that please the eye as well as IT.