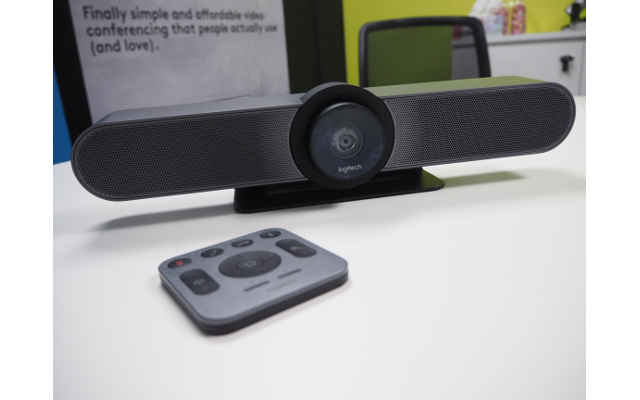 Logitech has launched its latest ConferenceCam offering, the Logitech Meetup, which is designed specifically for small conference rooms and huddle rooms. With a 120º field of view, the Meetup offers the widest field of view for any Logitech video conferencing solution without any fisheye lens distortion.
The ConferenceCam also has three sound-isolating microphones and a voice-optimised speaker, with acoustics specifically tuned for huddle rooms. The microphones are also Microsoft Cortana certified for voice command precision with any Windows 10 system, and an optional expansion microphone can increase conversational radius even further in larger rooms.
The Meetup's lens uses advanced technology to deliver sharp, distortion-free video quality with good resolution, colour balance and detail – the motorised lens also smoothly pans and tilts to expand the total field of view to 170º by 105º, and a 5x optical zoom allows users to focus on participants and whiteboards with clarity.
Other features include an RF remote control that allows users to adjust audio and camera settings without requiring line-of-sight, and an ultra HD 4K image sensor that supports multiple resolutions including 4K, 1080p and 720p. The Meetup is also USB plug-and-play, and uses an all-in-one design that minimizes cable clutter.
The Meetup is designed to work with just about any video conferencing software application and cloud service, including Skype for Business, Cisco collaboration applications, and all Logitech Collaboration Program (LCP) partners such as BlueJeans, BroadSoft, Vidyo and Zoom.
The Logitech Meetup will be available in July 2017, with a suggested retail price of $1529 in Singapore. The expansion microphone for the ConferenceCam will be available at a suggested retail price of $375.