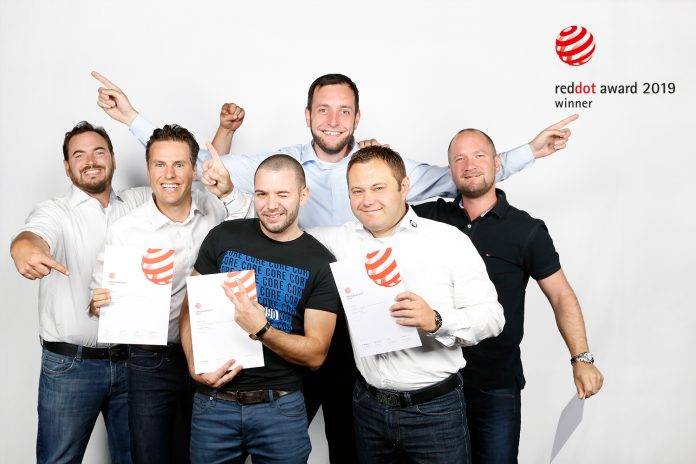 T
he Adam Hall Group received the Red Dot Award 2019 in the category of Product Design. Both the UHF wireless systems from the
LD Systems U300 Series
and the LED washlight
Cameo ZENIT B200
received the Red Dot, which is awarded by a distinguished jury exclusively to products demonstrating excellence in design.
Practical Design for Demanding Audio and Lighting Professionals
The latest Red Dot Award has further encouraged the Adam Hall Group, based in the Hessian town of Neu-Anspach, on its mission to develop customer-oriented and innovative event technology solutions. Both the U300 Series from LD Systems and the ZENIT B200 from Cameo embody the characteristic design language of each respective brand and provide professional users with a well-thought-out combination of functionality, performance and premium design for a wide range of applications.
Design Quality Unites Product Excellence
"I congratulate the winners on their great success. The fact that their products held up under the strict scrutiny of the jury is testament to their excellent design quality. The winners are influential trendsetters in the design industry, demonstrating where the future may lead," said Professor Dr. Peter Zec, Founder and CEO of Red Dot, about the winners.
"We are delighted that this year once again, the international Red Dot jury has given two awards to our event technology solutions. The Red Dot Awards are one of the world's best-known design competitions and confirm our unconditional aspiration to provide products with not only impressive technical quality, but also strong practical user-focus and a design language with a high recognition factor," said Alexander Pietschmann, CEO of the Adam Hall Group.
In a Nutshell: Experience and Expertise
The Red Dot Award: Product Design is one of the world's largest design competitions. In 2019, designers and manufacturers from 55 nations submitted more than 5,500 entries to the competition. For more than 60 years, the international jury of experienced experts from different areas of expertise has convened to find the best designs.
The assessment process takes place over several days, during which they try out and discuss the products before finally making an informed assessment of the design quality of the submissions. True to the motto "In search of good design and innovation", they place great emphasis on criteria such as degree of innovation, functionality, formal quality, durability and ergonomics.
Success Celebrated at the Award Ceremony
On July 8, 2019, the Adam Hall Group will celebrate its success at the award ceremony. As part of the Red Dot Gala, the international design scene will meet at the Aalto Theatre in Essen.
Red Dot winners will receive their certificates afterwards at the "Designers' Night" party and both the LD Systems U300 Series and the Cameo ZENIT B200 washlight will make their debut at the exhibition "Design on Stage" in the Red Dot Design Museum in Essen, where all winning products will be presented.
The U300 Series and the Cameo ZENIT B200 can then be seen in the Red Dot Design Yearbook, online and in the Red Dot Design App.