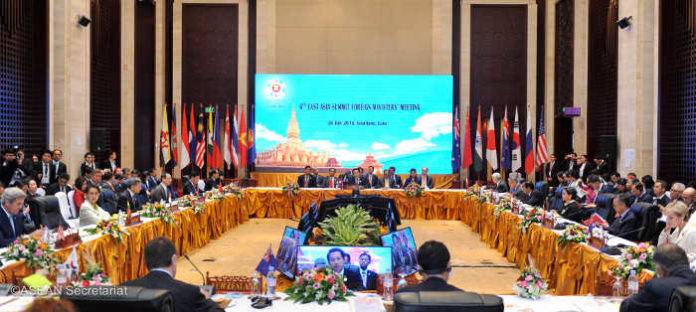 From July 21st to 26th, a suite of leading conference solutions from Shure provided flawless audio to hundreds of attendees at the 49th ASEAN Foreign Ministers Meeting and Related Meetings in Vientiane, Laos. Central to the setup was the DCS 6000 system which provided comprehensive conference management and simultaneous interpretation at each of the summit's high-profile meetings.
Throughout the 6-day event, Lao PDR, who assumed chairmanship of ASEAN this year, hosted 22 ministerial meetings between respected dignitaries from ASEAN member states. Along with several additional bilateral meetings and post ministerial conferences with 10 international dialogue partners, the Shure DCS 6000 system was essential to facilitate the many comprehensive, candid and fruitful discussions.
Powerful, scalable and highly flexible, the DCS 6000 is a fully digital solution that enables large meetings to be managed with complete control and reliability. With a range of hardware and software options, the system can conform to the most specific needs or protocols of any group or organization, including international platforms like ASEAN.
Having already successfully handled several other ASEAN summits in previous years, Audio Synergy Projects & Concepts, Malaysia-based rental partner in the Shure Conferencing Network (SCN), was chosen once again as the meeting's AV solution provider.
"The stakes are always high at such events. Leaders from around the world gather to discuss critical topics, and they expect to be heard and understood clearly. We required a powerful and reliable conferencing solution to guarantee highest quality audio and smooth meeting rundown. This is why we chose the Shure DCS 6000 system, and it performed admirably. It allowed us to focus on other aspects of the AV setup, without worrying about audio consistency or quality," said Mr. K H Thong, Director of Audio Synergy Projects & Concepts.
The SCN Rental Partner installed 76 DM 6680 P Portable Conference Units across seven conference rooms, providing each meeting participant with their own microphone. A camera control system was also installed in the two larger conference rooms for speaker tracking and display on the large screens throughout the room.
Since the room layouts and configurations had to be changed frequently, the DCS 6000's simple daisy-chain, DCS-LAN connection with use of standard Cat5e cables allowed to easily remove and reposition the conference units as needed. When extra security is required, the system also provides audio scrambling, which is of particular importance during confidential, closed-door meetings.
With hundreds of international delegates, observers, and media representatives attending the meetings, an advanced simultaneous interpretation solution was required to allow each of them to follow the ongoing discussions. Audio Synergy partnered with Mighty Mice, SCN rental partner in Thailand, to ensure the interpretation and audio delivery was of highest quality for every meeting in the near-weeklong summit. 16 portable IS 6132P Interpreter Units were set up in several interpreter booths, and a total of 514 units of the DR 6032 Digital Infrared Receivers were distributed to the attendees to deliver conference audio in their preferred language.
As part of the conference layout, two separate country rooms with 15-20 small country booths, each equipped with large plasma screens, were set up for observers and media representatives which could not directly join the discussions in the conference rooms. To support their multi-language needs, the audio distribution system was extended into the country rooms, with four RA 6025 digital radiators distributing powerful and reliable digital infrared signals to the wireless receivers.
The DCS 6000 Digital Conference System met all of the summit's conferencing demands and was very well received throughout the summit. Its superior audio quality, intuitive and user-friendly operation, and scalability makes it the option of choice for such high-level events. For extra reliability, Audio Synergy had also deployed 20 channels of the Shure ULX-DTM Digital Wireless System as backup microphone system.
Mr. K H Thong concluded, "From an audio perspective, the entire summit was a great success. The attendees were provided with clearest sound at each and every meeting, a major achievement for such an important and large-scale event. The DCS 6000 Conference Systems worked extremely well with the other components of the AV setup. Having confidence in your sound system is priceless, and we know that Shure and the Shure Conferencing Network will continue to be a trusted partner for many events to come."