Held outdoors at the Hard Rock Hotel's The Coliseum, in Resorts World Sentosa, the A15s together with the KS21 subs were demonstrated to around 100 guests mainly from the rental and staging segment.
The launch was organised by L-Acoustics distributor Sennheiser Asia supported by Khiew Chung Wah, L-Acoustics' application engineer for Asia.
Khiew highlighted to the guests that there are 4 models of the ARCS A series – the A10 Wide and Focus as well as the A15 Wide and Focus. The KS21 is the dedicated subwoofer for the A series, which incidentally happens to be L-Acoustics' first 21 inch subwoofer.
At the launch a centre cluster of 4 x A15 Wide speakers was hung dispersing the sound 120 degrees horizontally. There was also 2 x A15 Focus that were placed on top of 2 x KS21 subs on the left and right of the stage. 3 x LA 4X amps drove the speakers via a P1 processor that received signals via AVB.
ARCS enclosures offer flexible coverage options, achieving a throw of up to 45 meters, and an impressive maximum output of 144 dB.
They can be pole mounted, stacked or flown as horizontal or vertical arrays.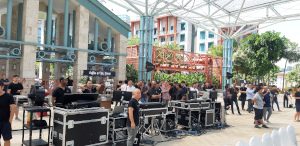 Khiew also informed guests of the simplicity of the setup. The enclosures were designed with LA4X capabilities and 1-to-1 ratios in mind. Each LA4X amplification channel pairs with one A15, one A10, or one KS21.
The 1-to-1 ratio extends to A15 and KS21, where one sub is recommended for each A15 enclosure. For A10, the recommended loudspeaker-to-sub ratio is 2-to-1.
For further flexibility, ARCS also functions seamlessly with LA12X amplified controllers.
Guests were also greeted with news that purchasing the ARCS A Series will give the companies an entry ticket to the L-Acoustics Rental Network which had been reserved for only those who have the K Series in their inventory.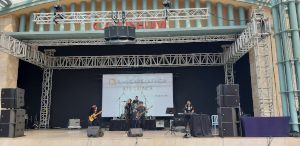 The ARCS A Series with its different configuration possibilities is able to cater to audiences from 50 to 5,000.
Playback music and a live band performance enabled guests to appreciate the range and quality of the A15 speakers and the KS21 subs.