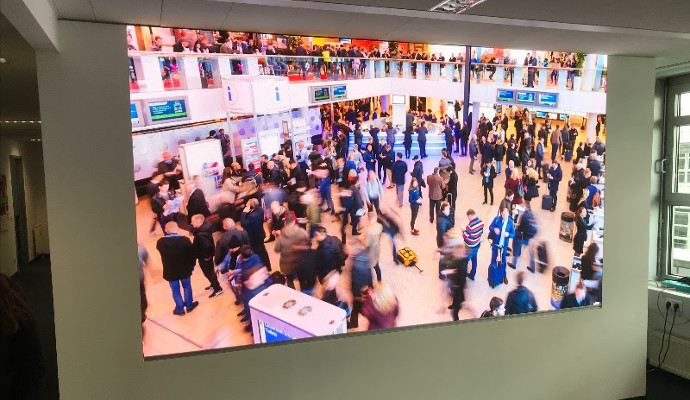 Integrated Systems Events, producer of the best-attended professional AV and systems integration trade show in the world – Integrated Systems Europe – has treated its Munich HQ to a state-of-the-art Radiance LED 1.5 video wall from Digital Projection.
Delivered and installed by Digital Projection, the 5 x 5-panel full-HD wall measures 3m wide, boasts a 1.5mm pixel pitch and is capable of 120Hz 3D imaging.
This allowed the facility to upgrade from its previous solution to a seamless custom configuration with no bezels interrupting the image. Digital Projection's Radiance LED also allows features front access design to ensure quick and easy maintenance while allowing the panels to be mounted closely to the interior wall itself.
Using equal numbers of horizontal and vertical panels, the Radiance range offers constant native 16:9 display resolution, with perfect colour and luminance uniformity, making it easier to construct a full HD or 4K wall.
The 100,000 maintenance-free hours of illumination mean that the display will last for nearly 50 years on a standard 8-hour work day running schedule.
Digital Projection's international marketing manager Mark Wadsworth explained: "The panels have a 15-bit greyscale, and 35 trillion colours, meaning that Integrated Systems Events visitors will be greeted with stunning images, with an amazing level of details and colour fidelity at superb contrast and black levels. At 1,000 nits, it is also super bright, which will allow the wall installed at Munich to run at 50% power only."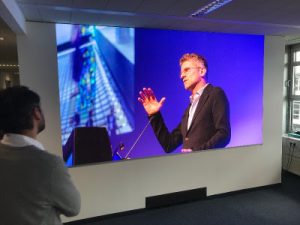 Digital Projection also supplied Volfoni 3D glasses and an emitter, so the team at Integrated Systems Events can make use of Radiance's industry-leading technology to demonstrate and run 3D content at great brightness levels.
Wadsworth continued: "Due to the building not allowing for the floors to be drilled, the Munich HQ walls were not able to support the full weight of the panel cabinets. We utilised a B-Tech BT9372-5×5 floor fixed stand mount which meant the full weight of the stand could be directed to the floor, while still allowing the structure to be securely retained to the back of the wall with off-the-shelf tie backs."
To suit a wide array of applications, Radiance LED is available in pixel-pitch configurations of 1.2mm, 1.5mm, 1.9mm & 2.5mm and can achieve full HD 1080p imagery at display sizes starting at 110 inches (diagonal) and Ultra-HD 4K at 220 inches.
Radiance LED features a thin installation profile, wide viewing angles and silent operation thanks to its fan-less panel design, thus providing a dynamic display solution for a wide variety of environments.
Mike Blackman, Integrated Systems Events managing director, commented: "As the leading AV integration trade show in EMEA, we're always up-to-date with current industry trends and are constantly on the lookout for the latest and greatest innovations."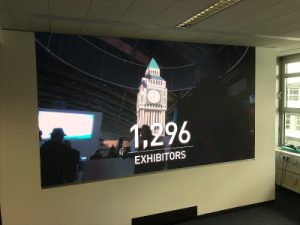 "LED is clearly becoming a mainstream and relevant technology for a growing number of applications – including within the corporate sector – so we were determined to make the best possible LED product available to our employees and guests."
"Digital Projection's Radiance is unsurpassable in terms of its brightness, colour performance and the possibilities provided by its 3D technology. And of course, the service we received was stellar, which gives us the utmost confidence moving forward."
Digital Projection's dedicated Application Engineering Team assisted with the Radiance LED design and system implementations. From initial concept and engineering assessment to final assembly and calibration, the company's Concierge Customer Support team helps bring the next visionary project to life, such as the one at ISE's Munich HQ.