At its 12th edition, the educational event dedicated to the Audio Community is back at ISE with an "old and new" topic: Audio Networking, from Digital Audio Protocols to Audio Over IP.
AudioForum is a full day educational event organized by Connessioni, in cooperation with AES – Audio Engineering Society – and supported by ISE. It will take place on Monday 5th February 2018, on the eve of ISE, at RAI Amsterdam from 10.00am to 4.00pm, in a new location, room L103/104. Special Guests: Genelec, AVNU Alliance.
AudioForum was created in 2013 to provide a continuous technical and market update on the most important audio topics, from one year to the next. But always with a wide perspective: audio in integrated projects needs to consider integration with other technologies, installation problems, rules, durability, design needs… For this reason, AudioForum bridges pro audio and systems integration.
AudioForum is an educational event that condenses seminars, workshops, updating, networking and conviviality into one day. It is dedicated to consultants, sound designers, system integrators, installers, companies and in general to professionals interested in knowing more about the latest audio and integrated technologies.
A unique opportunity for broadening knowledge, but also for developing new contacts and sharing experience and ideas, with colleagues, peers and companies.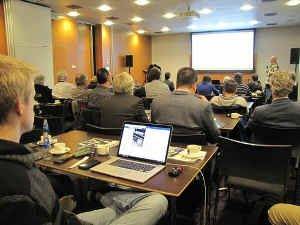 The topics for the 2018 edition
Digital Audio has always been a "hot topic", and Digital Audio transportation has become more and more important as long as complexity and integration needs have been growing in audio design. AudioForum@ISE2018 will be dedicated to Audio Networking, from Digital Audio Protocols to Audio Over IP. It wont' be about a single protocol but on digital audio networking: why and how the industry started using those techniques, their development until nowadays, their interoperability…
Dedicated sessions to the most popular Protocols for digital audio transportation (Dante, AVB, AES 67, Ravenna…) will be also proposed. The aim of the day is offering a wide and objective overview on transportation topics and issues, and on available protocols and network solutions. After the seminars, there will be some open table discussions with the speakers; each table will be dedicated to a different topic, and delegates can move to a different table every 20 minutes.
The speakers will be renowned consultants and designers, many of them already present during the past editions: Umberto Zanghieri, Consultant, specialized in DSP development and digital audio, Ruud Kaltofen, DSP System Designer at Event Acoustics and President AES Dutch Section, Jeff Berryman, AES Life Member, Senior Scientist at Bosch Communications Systems USA, Donato Masci, Acoustic Designer at Studio Sound Service. New voices will be Thomas Lund, Senior Technologist at Genelec and Henning Kaltheuner, AVnu Alliance and Head of Market Intelligence and Strategic Business Dev at d&b audiotechnik. Genelec will also be supporting the event.
Visitors to ISE are invited to the event.
Details and full program are available at: audioforum.connessioni.biz