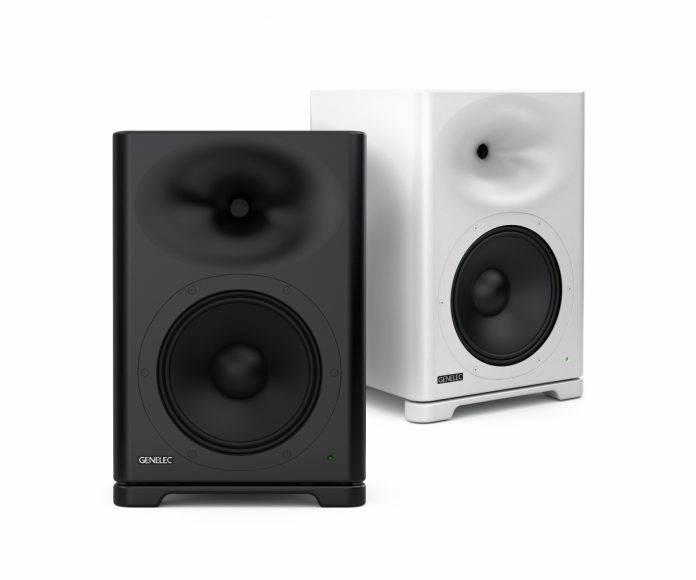 Genelec showcased its new high SPL S360 smart active loudspeaker to the installed audio market for the first time at ISE 2019.
The S360 is a formidable contender for any installation environment where the emphasis is placed on premium quality, high SPL vocal and music reproduction in a compact form factor.
This means that Genelec performance can now be extended to a wider range of applications, including lecture halls, auditoria, bars and clubs, live music performance, studio theatres and courtrooms.
Housed in a compact low diffraction enclosure with premium quality Finnish woodwork, the S360 features an enhanced 10-inch high efficiency woofer and 1.7-inch titanium diaphragm compression tweeter, with a 1-inch throat opening to an extended directivity control waveguide.
This results in Genelec's famed neutral reproduction and a short-term SPL capability of 118 dB, with peaks even higher, plus a long-throw capability that delivers studio quality accuracy at listening distances of over 10 metres.
The S360 also boasts excellent on-axis characteristics and uncoloured 95-degree (h) to 75-degree (v) dispersion.
The S360's tight integration with Genelec Loudspeaker Manager (GLM) software allows integrators to configure, auto-calibrate, supervise and control every unit in installations of any size.
As a result, the S360 can be combined with any other Genelec smart loudspeakers to create large systems that can be commissioned with ease and optimised for any acoustic environment – including room and delay compensation.
The S360 comes with an extensive range of mounting possibilities, including free-standing, in-wall, on-wall, ceiling and truss options – making it an attractive proposition to integrators looking to combine legendary Genelec quality with high power handling capabilities in any fixed installation environment.
Further flexibility comes courtesy of the system electronics, which can be ordered either integrated into the enclosure or positioned remotely via a 2U 19" rack kit.
The addition of a complementary Genelec subwoofer – such as the 7382 – enhances system performance even further, with the 7382 offering seamless integration with the S360 and extending down to 15 Hz with SPLs in excess of 130 dB, delivering low distortion reproduction with unrivalled clarity.
Genelec AV Business Manager Sami Makinen commented: "While we originally conceived the S360 as a high performance loudspeaker for music, film and post, it quickly became apparent that there was also demand from the installed audio market for a compact Genelec loudspeaker that could deliver high acoustic power."
"With its long throw and studio-quality clarity, we are convinced that the S360 will find a home in many fixed installations that require both power and precision. Coupled with Genelec's legendary reliability and ability to adapt to even challenging acoustic environments, the S360 is the perfect choice for discerning integrators everywhere."