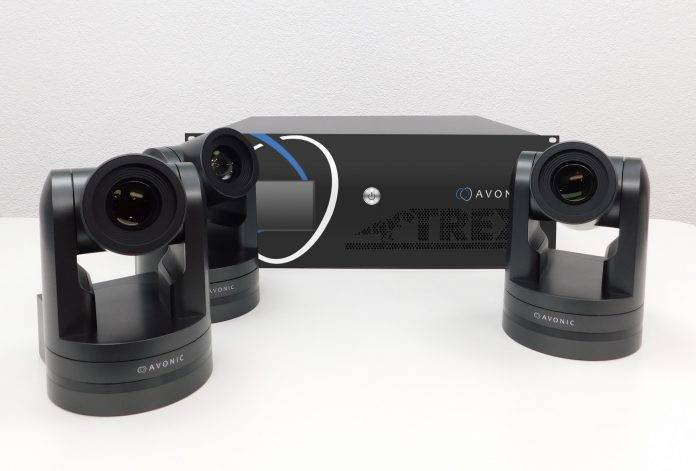 At ISE (Stand 15-S300) event capture and recording company Avonic is previewing an exciting new solution for those looking to make live events more involving, or to capture events and lectures for subsequent playback and/or distribution.
The Avonic T-REX is world's first truly 3D-based fully automated tracking system for event and lecture capture. The system uses multiple Avonic PTZ cameras located at strategic positions throughout, for example, an auditorium to create a vibrant and TV-like capture experience.
"The Avonic T-REX has so many benefits and advantages," said Walter Harrewijn, Managing Director, Avonic. "The ability to automatically switch between multiple camera angles delivers a more engaging viewing experience, capturing and retaining viewer interest and attention. Those watching can clearly see what's on the blackboard, whiteboard or screen – again, making for a better experience."
"For the teacher or lecturer, it also brings advantages in terms of ease of use," Harrewijn continued. "There are no wearables to get lost or to be unavailable because they're being repaired – and, because the educator doesn't have to think about the technology, he or she can focus on delivering the content."
Based on machine learning technologies that facilitate 3D speaker tracking without the need for the speaker to wear special equipment, the Avonic T-REX is capable of either automatic or manual operation, with control of the system provided by a web interface.
It supports multiple cameras that provide a range of angles of view: an overview camera is also supported. High quality video is at 1080p60, and can be streamed to capture devices.
For local capture/recording, output from the T-REX would typically be via HD-SDI. However, for streaming to a cloud-based capture system, the T-REX supports the H.264 and H.265 codecs. Support for HDMI is also available.
"The T-REX is truly unique in the market today," concluded Harrewijn. "We're very much looking forward to showcasing it to ISE visitors and to getting their feedback ahead of us completing the development and shipping it in the near future."