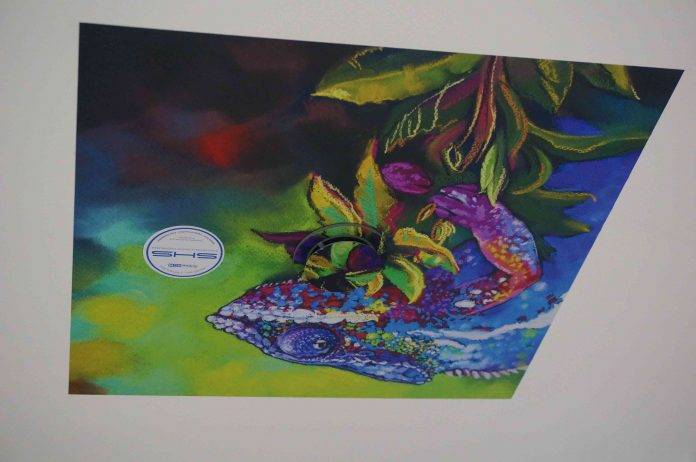 AtlasIED introduced the SHS Series, Strategically Hidden Speaker, to an international audience for the first time at ISE 2019.
Years in development and shipping now, the SHS Series fills a necessary niche in commercial speakers, merging superior sound quality with thoughtful design so that the speaker virtually disappears into the ceiling.
The first-of-its-kind concealed design of the SHS is achieved by Adaptive Dispersion Lens Technology, a new, patented waveguide form. Only a 3'' diameter lens and a micro trim ring are visible on the ceiling.
The dispersion lens can be easily painted or replaced with material to match the ceiling, allowing the SHS to blend in without compromising the architectural aesthetic of the room.
Designed to deliver highly intelligible audio, the speaker has a 2-way driver providing high-definition sound. Sound exits the 2-way transducer and passes through the patented adaptive dispersion lens for a smooth and uniform frequency response with no "hot spots" common to some loudspeakers.
The speaker uses an integrated 32-watt 70V/100V transformer with a sealed enclosure above the ceiling for optimal bass response, and offers ultra-wide 180-degree dispersion for full coverage in any environment. Easy to specify and install, the SHS Series speakers include 3 dispersive lens configurations for enhanced flexibility and functionality in any room, regardless of ceiling height.
Thanks to their slim profile and thoughtful design, the SHS Series speakers already seem to vanish into the ceiling of any installation.
However, for hard-to-match environments, AtlasIED's DesignLab custom print process uses an incredibly accurate UV-printer to replicate colours, textures, and patterns, enabling the SHS to blend into any environment.
Simply upload an image, provide a numeric color specification, or send a 6" sample of the ceiling tile to be matched, and the experts at AtlasIED will do the rest, delivering perfectly matched SHS lenses for any project.