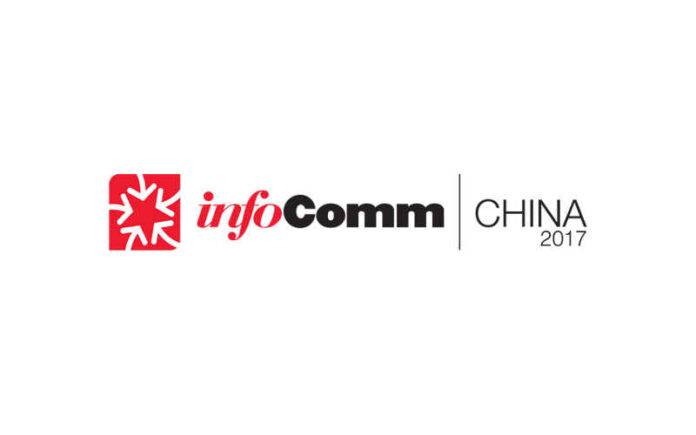 I
nfoComm China 2017 is set to be the biggest pro-AV and ICT showcase in the Asia Pacific yet. With nine halls covering 55,000 sqm of the China National Convention Centre, over 300 local and overseas exhibitors will participate in this event.
This year's showcase will welcome over 52 new exhibitors from eight countries and regions, such as China, the USA, Japan, the UK, Germany, Korea, Taiwan and Hong Kong. InfoCommAsia Executive Director Richard Tan says: "The pro‐AV market is evolving rapidly in tandem with the broader technology landscape, and visitors to InfoComm China can benefit from new and deeper understanding of the use of cutting‐edge technologies and applications for digital transformation in the business, industry and community domains."
Brands present at InfoComm 2017 include Christie, Extron, Creston, Epson, Sony, LG, Panasonic, Hitachi, Sennheiser, Harman International, Shure, Barco, Delta and Yamaha, all of whom will be displaying their new products and solutions. More than 87 new-to-Asia and 82 new-to-China products and solutions will also be launched at the exhibition.
The InfoComm China Summit will also be held concurrently with the three-day exhibition. In addition to existing supporting associations like Digital Signage Multimedia Alliance Taiwan, the Summit has also garnered the support of the Guangdong New Energy Vehicle Industry Association and China Hotel Association Wisdom, two new leading industry associations.
Discussion session topics include:
InfoCommAsia University Seminars
These sessions combine the best of both worlds – classroom learning and hands‐on experience – to deepen the technical knowledge of AV and ICT professionals. Participants will learn how the Internet of Things impacts audio and video integration, and how IP can be effectively used in the education sector for more effective learning. There will be sessions conducted in English for international delegates.
IT Forum
Jointly organised with China InfoWorld Magazine, this forum will focus on the next generation of Virtual Reality (VR) and delve into the core technology of VR development as well as applications and trends for VR technology. Through case studies on XiaoMi and Taobao Buy+, it will illustrate how VR can enable business transformation.
Digital Signage Asia (DSA) Forum
Jointly organised with Digital Signage Multimedia Alliance Taiwan, this two‐day forum will gather experts from Taiwan, Japan, China, Singapore and Canada for in‐depth discussion on innovative applications of digital signage solutions and the benefits it can bring to end‐users.
Smart City Forum
Jointly organised with the Guangdong New Energy Vehicle Industrial Association (GDNEVIA), the series of discussions will focus on Big Data and the future of Smart Cities, from a city of driverless cars to public‐private partnership model in traffic management.
Smart Hotel Forum
Jointly organised with the China Hotel Association Wisdom, this forum will delve into how productivity enhancement, effective cost control and quality improvement will revolutionise the hospitality industry and lead to progress and breakthroughs in hotel management, service level, marketing and customer experience.
InfoComm China 2017 will be held from 12-14 April. Interested participants may pre-register online.
www.infocomm-china.com
www.ifcshow.com