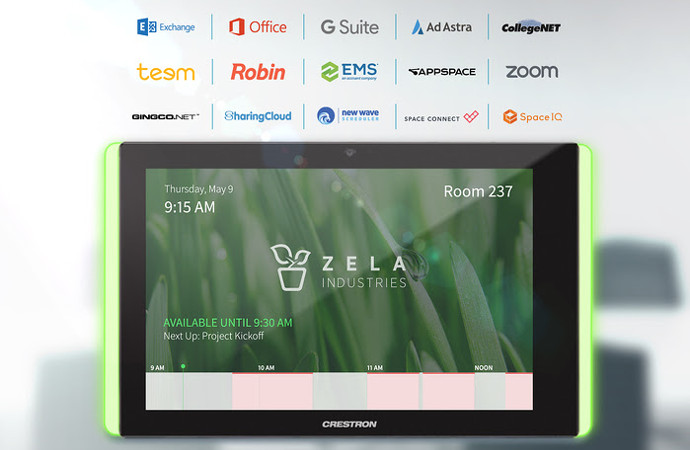 Crestron showcased the latest additions to its best-in-class room scheduling platform at InfoComm 2019. Ad Astra, CollegeNET, New Wave Apps, and SpaceIQ now run on Crestron room scheduling touch screens.
They extend what was already the broadest range of supported third-party scheduling software in the industry.
Crestron also debuted the latest additions to its family of room scheduling touch screens with the TSW-560 and TSW-560P, both of which support direct connect scheduling.
"It's all about providing organizations with the ability to decouple the scheduling hardware from the software application," said Julian Fernandez, Program Group Marketing Manager at Crestron.
"By supporting the widest array of scheduling software in the industry, we're able to provide organizations with the unique ability to support their software needs as they evolve over time, while leveraging world-class Crestron hardware."
Crestron touch screens natively direct connect to a Microsoft Exchange Server, Office 365, G Suite, Ad Astra and CollegeNET with no additional software or hardware needed. Native Crestron room scheduling software provides a variety of branding and customization options including HTML5 support.
Also, on display at InfoComm 2019 was native support for New Wave Apps, SpaceIQ, Teem, Robin, Appspace, EMS, and Zoom Rooms, Gingco, NFS, SpaceConnect, and SharingCloud scheduling software applications.