Adamson Systems Engineering had an increased presence at InfoComm 2019 and expanded its install-focused IS-Series with the launch of the IS219 subwoofer.
"The response from architects and AV systems designers and integrators regarding our IS-Series has been incredibly encouraging," commented Brian Fraser, Product Manager with Adamson.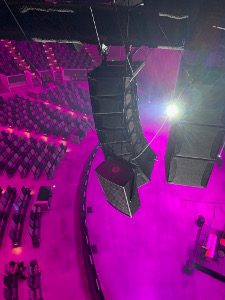 "There's obviously a demand for premium, tour-proven sound quality in unobtrusive, architecturally-friendly enclosures, and there's no better event to expand the series and enhance its versatility for various applications than InfoComm 2019."
The IS219 subwoofer is the latest addition to Adamson's installation-tailored IS-Series, which packs the company's sophisticated, tour-proven technology into sleek, architecturally-friendly cabinets with rugged and unobtrusive rigging solutions.
The product was developed with input from several prominent integrators.
The IS219 is a high-powered subwoofer intended for use in ground-stack configurations and to fit into compact spaces. The enclosure is loaded with two lightweight, long-excursion 19" SD19 Kevlar Neodymium drivers utilizing Adamson's Advanced Cone Architecture and a dual 5" voice coil for exceptional power handling.
It is mounted in an ultra-efficient, front-loaded enclosure, designed to reproduce clean, musical low-frequency information.
The cabinet construction uses marine-grade birch plywood as well as aircraft-grade steel and aluminum and is equipped with two front and back Speakon NL4 connectors, or barrier strips available upon request.
The IS219 ships with removable handles for easy maneuverability while allowing it to fit into tight spaces when the handles are removed, and its 20-in. height ensure it can easily fit under a standard 24-in. stage.
Adamson hosted regular demonstrations of the IS219 and wider IS-Series, along with the popular S-Series and new CS-Series of intelligent, Milan-ready compact loudspeakers at the show.