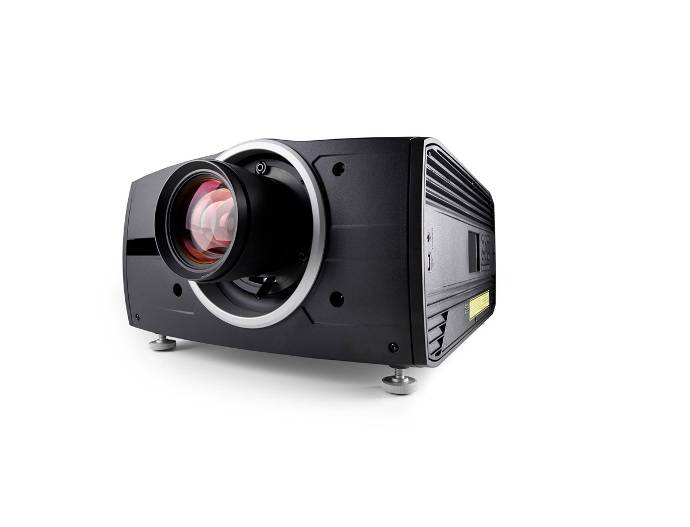 Immersive Display Solutions Inc. (IDSI), a solutions-based and services-oriented company that designs and integrates cylindrical, panoramic and spherical projected display solutions has selected the Barco projectors for its latest advanced dome display project.
Using 13 F70-4K6 projectors per dome and featuring the powerful Barco Pulse electronics processing platform and unique Single Step Processing (SSP) pixel-shifting technology, the integrated solution from IDSI will support high-performance fast jet pilot training.
The F70-4K6 is a high performance, robust laser-phosphor projector with sealed optics and minimal number of moving components inside.
This construction enables rugged performance that ensures stability and predictability over the 60,000 hour lifetime of the product. 4K resolution is achieved using the high bandwidth Barco Pulse electronics platform and the proprietary SSP technology. All this leads to the delivery of exceptionally sharp and detailed dynamic imagery allowing trainees to detect moving objects at long distances and totally immersing them into the perfect simulation experience.
This selection continues the successful relationship which has been built between IDSI and Barco over many years and has produced some of the highest quality display systems in the industry.
"Our relationship with Barco is built on performance, support, and trust," said George Forbes, President and Founder of IDSI. "When we make a determination on which projector to use for a project, we consider much more than the technical performance- which has to be there. We know we can rely on Barco, and that the entire Barco Simulation team from top-down is behind us, and that is a big factor in who we choose to partner with".
"The team at IDSI is well-respected throughout the industry for their precision, quality, and low-risk approach to program requirements," said Dave Fluegeman, VP, Simulation at Barco. "Our teams have always integrated very well, and when there is a seamless approach and singular focus to a project, the likelihood of success is always very high."