T
he seventh edition of InfoComm Middle East & Africa (IFMEA 2017) – second independent outing – organized at the Dubai World Trade Centre from last week had, so to say, many reality stakes. Festival/Holiday season; year-end financial closures and project completions; independent standing; and political equations seemingly impacting the event in a very generic sense, the industry fraternity and the organizing apex body appeared to have taken it in their stride towards more reality (s)takes. There were indeed some positives though.
For the Show Stakes, it had AR & VR, LEDs and digital signage applications as dominant signs while bringing some path-breaking solutions to the floor. A snapshot at the three-day:
When the show doors opened last week, the stakes were really high- basing on the encouraging footing it had on its first independent outing last year. It appeared to have some good reasons to show up with zest and zeal.
The event had moved to a much comforting venue with the Main Hall of WTC from a far-off extension it had last year. It was taken to be a very congenial time of the year with very pleasant weather, 'free-from-maddening-crowds events' and an encouraging sign-off before the Year-End Holiday.
A couple of unforeseen developments, and the impact appeared to be telling. UAE's National Holiday happening just before the event dates might have taken the potential AV buyers from the rich Arab nations on joyful vacation; on the other side, the recent political equations in the region created an element of uncertainty (apparently keeping away some good numbers), the spiralling effect of which appeared to have altered the spending tendency of AV enterprises. Adding to that was the assumed urgency of financial closures and project completions before the Year-End Holiday- keeping the key industry stakeholders preoccupied.
Having said all that, the event did have its positives. "It is okay, given the typical conditioning of the event," was the generic sentiment on the floor.
"IFMEA has been like this; we do not want or expect Gitex genre of consumer crowds," opined Philippe Vitali, Marketing and Communication Director at Analog Way. "We come here to reconnect with our network; sometimes it is better, sometimes, it is not that good."
"It could have been better," felt Ron Schouwenburg, Mitsubishi Electric's Trade Show & Event Manager-EMEA. For him, they didn't expect huge footfalls, but it could have been better from what it was last year.
For Kazuhiro Yamamoto, Chief Global Strategist at Japanese digital processing/signage solutions major Asukanet, the event was good in that they got exposed to the Middle East markets they had been wanting for some time. "We found visitors getting impressed by our solutions; we hope we will make a headway," he said. "We had some encouraging enquiries."
So it was for Unilumin's Vice-President-EMEA Steve Scorse who wanted to expand and establish the Chinese LED solutions major in the ME markets. "It is one right platform to come here," he says. "So far so good."
A still happier man was Sanjeev Singh, Managing Director of AV distribution enterprise Aviss LLC. "It was a good outing for us; we even closed a couple of good business deals," he said. "We also had some big enquiries too. That was very encouraging."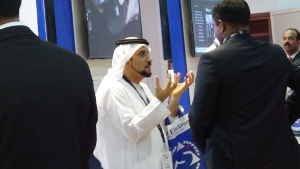 For the exhibits on the Show floor, most of the major, regular exhibitor showed products that were demonstrated at ISE and InfoComm USA, or have been on the market for some time. Some exhibitors introduced to the ME markets that have been popular on global markets.
For InfoComm Asia, the organizers of the event, the regional situational factors have admittedly influenced the show in a very physical sense, while it did not have much of an impact on the show composition.
"There is a good level of technology showcasing with new solutions coming in as usual," says Richard Tan, Executive Director of InfoComm Asia Pvt Ltd. According to him, the show had a good combination of AR & VR, UC, control systems, projection technology and digital signage solutions.
However, it's been a very challenging time for the last six months or so for the typical reasons discussed, affecting the show promotion across the region. Two biggest markets in the region Saudi Arabia and Qatar had their own share of challenges that had a bearing on the event.
"For the first time, we are in a reality check. It can't be rosy every time, or like previous years," Richard opined. "We did expect some effect owing to obvious reasons. But it could have been better."