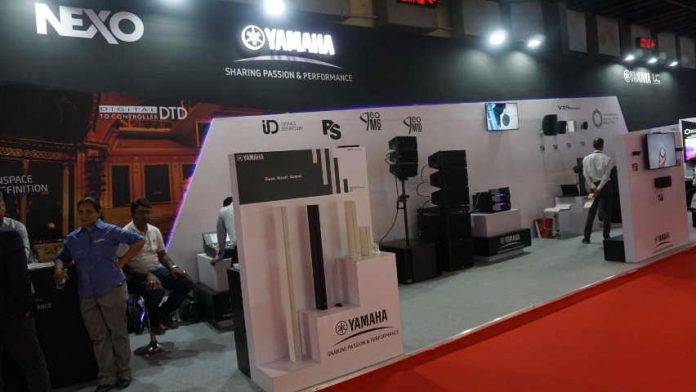 Musical major Yamaha Music Pvt Ltd , which had recently taken over the complete control of audio systems manufacturer NEXO, chose InfoComm India 2017 platform to promote the French brand with renewed aggression.
Reiterating continued initiatives from its earlier tradeshow outing in Mumbai recently, the Japanense audio major not only highlighted NEXO products on its booth, bur also followed up with dedicated promo campaigns. The products demonstrated included the geoM6 and geoM10 cabinet speakers, besides others, while on the other hand the company demonstrated the VXS, and the VXL series from Yamaha staple.
GEO M6 systems can be flown, groundstacked or pole-mounted on subs. Lightweight polyurethane composite cabinets measure just 191mm high x 373mm wide x 260mm deep. Ideal for installation in design-sensitive interiors, GEO M6 cabinets, fabric grilles and accessories can be specified in any RAL colour.. Comprising two identically-sized cabinets – the GEO M620 main and GEO M6B bass extension – and complemented by a comprehensive range of mounting accessories, GEO M6 offers installation contractors and sound rental companies a dependable, TÜV-certified system with an important difference: legendary NEXO performance.
On the other hand, just 531mm wide and 21Kg in weight, NEXO's extraordinary GEO M10 combines a number of patented technologies with advanced DSP control and integral, 'no loose parts' rigging to create a compact, powerful, wide-bandwidth module that's quick and easy to deploy in flown arrays or groundstacks.
Favouring innovative new thinking over conventional line array wisdom, GEO M10 partners a 1.4″ titanium diaphragm HF driver with a single, Neodymium-magnet 10" driver and delivers an unprecedented ratio of LF response to cabinet size, outperforming many larger, dual-driver designs. And with a maximum SPL of 136dB, GEO M10 is twice as powerful as its sister-system, the GEO M6, making it ideal for speech and music events with larger audiences.
GEO M10 incorporates a number of NEXO patented technologies, including the Hyperbolic Reflective Wavesource (HRW), Phase Directivity Device, V-shaped Port Tube Profiling and Magnetic Waveguide Flanges.
"We have been holding a series of ETC (education, training, and certification) programmes as part of our aggressive promo of NEXO," explains Harisha GN, Manager-PA Sales and Marketing at Yamaha Music India. "We wanted to use the InfoComm platform to further augment our efforts of promoting NEXO in India; the show did help our cause to a great extent."