New Delhi-based distribution major Sun InfoNet is bringing vast range of solutions that include Microflex's complete conferencing system, and Microflex wireless microphone systems.

Microflex complete integrated audio system for conferences and meetings, coming in wired and wireless configurations, delivers natural, intelligible audio for participants in the room as well as remote attendees and advanced meeting productivity tools.

The Microflex Complete system includes a range of portable and flush-mount conferencing units that can be easily integrated into any room design, from contemporary meeting spaces to historic buildings. Each conferencing unit includes a microphone, loudspeaker, and controls, putting a compact but complete sound system close to the user for outstanding clarity in rooms of any size. A colour touchscreen on selected models provides clear access to controls and meeting information.

A choice of automatic or managed microphone activation modes lets the system be tailored to match informal gatherings or agenda-driven meetings. Optional SW6000 software adds advanced capabilities like participant identification, agenda management, and electronic voting and polling that ensure efficient meetings even with hundreds of participants.

The Microflex Complete Wireless system overcomes cable limitations in rooms with flexible seating or in historic buildings where drilling holes in furniture is impractical. Automatic interference detection and avoidance technology delivers reliable transmission without signal dropouts, and robust AES-128 audio encryption keeps meeting content private. Each wireless conferencing unit is powered by a smart Lithium-Ion rechargeable battery, so its remaining charge (in hours and minutes) can be checked remotely by a technician.

With the ability to flush-mount the MXA910 alongside standard ceiling tiles, and the innovative new-to-the-world "toroid" polar pattern in the MXA310, these microphones offer a dynamic package of technologies to ensure a best-in-class audio experience. The MXA910 is a premium networked array microphone that captures best-in-class audio from above the meeting space with Shure proprietary Steerable Coverage technology, enabling up to eight lobes that are configurable in three dimensions. Designed for A/V conferencing environments—from boardrooms to huddle rooms and multi-purpose spaces—the MXA910 can be flush-mounted in any standard ceiling tile grid. In addition, the MXA910 can also be installed below the ceiling with standard VESA-D and wire hanging mounts.

Microflex Wireless Microphone System:
Microflex Wireless microphone systems bring modern design and vivid, lifelike sound to signature boardrooms and AV conferencing environments. This enterprise-scale platform encompasses a system of advanced conferencing products that includes intelligent rechargeable microphone transmitters and charging stations, discreet wireless access point transceivers, flexible audio network interfaces, and comprehensive software tools for remote adjustment and monitoring of system settings.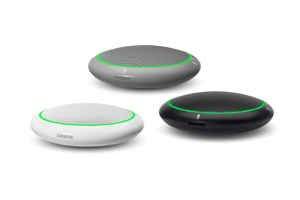 Easy to configure and expand, versatile Microflex Wireless solutions scale from group workspaces to networked enterprises. All components in the Microflex Wireless system are accessible over Ethernet networks with Microflex Wireless Control Software and third-party control systems such as AMX and Crestron that offer customized interfaces. For sites where AV and IT teams manage conferencing solutions that span rooms, floors, buildings and campuses, Microflex Wireless delivers networking components that extend the reach and efficiency of team resources.

www.shureasia.com

Sun Infonet: BOOTH C35