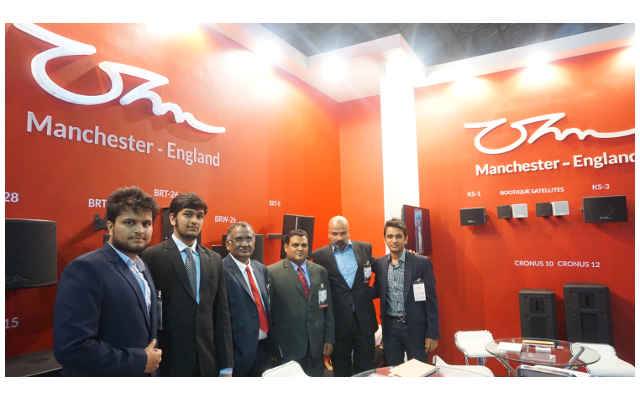 L
eading British audio manufacturer OHM, continuing its aggressive campaign in the Asia Pacific, and India in particular, debuted at InfoComm India 2017 with a new 'branding' and, of course, new range of products.
The audio major's new @OhmManchesterEngland campaign – sporting the new red and white colours in a new gloried blend – is well underway, as reflected at its booth on the event Show Floor. "OHM believes the new colour truly represents the brand and its character," says Gareth Coleman, OHM's International Sales Director. "The campaign is designed to improve the brand and product awareness on a global scale," he explains.
"We want to ask the world to join our cause for better sound all over the world. A good tasting coffee house should sound just as good, wherever it is. From Pro Audio distribution, rental and integrators to venue owners and their customers, we want everyone to experience great sound," elaborates the OHM Sales Director.
The company's branding from now, therefore, would be in this combination of bright red and white colours.
Making clear its strong and renewed focus on India and Asia Pac, OHM also debuted its new weather resistant speakers in the popular KS Series. Designed for background audio reproduction in the harshest of outdoor environments, the new IP54 versions of the KS Series come with gland backplates, polyurea paint finish and Zintec steel grill- all meant to make the system stay robust in all types of challenging outdoor conditions.
"We love pushing boundaries in product innovation so that audio can be heard in the hardest of environments," vouches the OHM Exec, "India is a huge market, with immense potential, and our focus is evident in our approach to the region. It feels great to be at InfoComm India, an effective channel to the country's ProAV market."
www.ohm.co.uk