The Mindstec Team with the Partners
W
ith all their major partners present at InfoComm India 2017, Mindstec had a truly global presence and convergence. The range of solutions on display ensured that the varied requirements of visitors would be met. Some of the highlights at the Mindstec booth include:
RTI – Central Control Systems
RTI launched their new remote control, control panels and processors during the show, receiving overwhelming responses from the experts from the system automation market.
Cabletime – IPTV and Digital Media Distribution Systems
It is the first time for Cabletime to be present in India with their IPTV, Digital Signage & Streaming Solutions and the new MediaStar 4K UHD IPTV and Media Player.
Datapath – Video Wall Controller and Content Management Systems
Datapath who have been constantly pursuing innovation in video wall management, showcased their latest products including VSN Micro with the same power as the original chassis but in almost half of the original size.
T1V – BYOD Collaboration Software
T1V showed their collaboration solution that supported multi-site operations, making meetings more interactive and fun. Ideas too can be shared more effectively.
Polywall – Video Wall Controller
Polywall showcased their latest enterprise-level video wall control software, along with the Datapath processor, showing visitors how media can be distributed across displays.
Panacast 4K Panoramic Camera
Panacast continues to lead the market with the 4K panoramic camera that now supports whiteboard feature along with intelligent zoom.
B-Tech Mounts
B-Tech was awarded "Manufacturer of the Year" in AV Awards 2017 just a week after the show. They had their latest system X solutions along with the new slim pop-in pop-out display mounting solution BT8312.
GoGet – Room Booking System
GoGet showcased the latest meeting management system and especially the award-winning Room Display 6 that took professional meeting room bookings to an unprecedented level with new design and features, which will work best for corporates.
Soltec – Advanced Monitor Solutions
Soltec presented its elegant and high-end Retractable Motorized Monitors made with anodized aluminium housing, brushed stainless steel cover plate and what is claimed to be the most silent and fast lift elevation system.
RDL – Audio Solutions
RDL continues to lead the market in audio solutions in particular the compact solutions for amplifiers and control wall plates.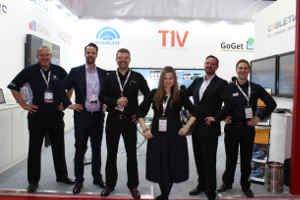 Mindstec's Partners
Regional Director of Mindstec, Sabarish said, "We've had an amazing show with a great team and lots of visitors to the booth where I see great potential rising for T1V which is a wireless/multi-site collaboration digital canvas for team engagements and ideas sharing. With RTI now open in India and Mindstec being the distributor for commercial and residential markets, I feel that we have opened a new window of opportunity in terms of control system solutions. Mindstec is now also the exclusive distributor of B-Tech mounts in the India region. All in all the InfoComm India 2017 was a huge success for our partners and us."
With the significant growth in the Indian market year on year, Mindstec looks forward to more years of success and let's look forward to the show next year!