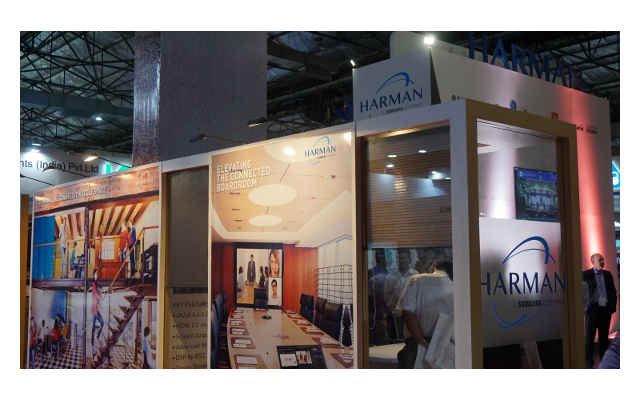 H
ARMAN Professional Solutions displayed the many ways audio, video, lighting and control (AVLC) technologies can come together. One of the important features was the AV distribution and control over the network offering the ability for more flexible, scalable and seamless integration and opening up powerful new opportunities for corporate, education, retail, hospitality and more.
The AVLC demo was not only an audio, video, lighting and control demo, but also a content delivery system. HARMAN has content distributed on different products, across its various brands, loaded onto AMX Enzo content-sharing devices. Video content displayed at the AMX Networked AV Demo Area are encoders, sending content over the network to decoders for each of the four Samsung UHF-E Series video wall displays. The demo included newly launched Ultra HD Over IP AMX N2300 & N2400 Series encoders and decoders that can distribute full 4K content over Gigabit Ethernet network with near-imperceptible latency.
Other solutions showcased included:
AMX Incite presentation switchers that deliver powerful audio and video capabilities for a wide range of presentation scenarios, including classrooms, conference rooms and more
AMX Acendo family of conference room solutions including AMX Acendo Core, AMX Acendo Vibe, and AMX Acendo Book that together enable enterprise office teams to increase efficiency, enhance collaboration and make optimal use of huddle spaces and small meeting rooms
HARMAN Connected PA, a complete, integrated ecosystem of audio products comprising:
– Soundcraft Ui12, Ui16, and Ui24R Digital Mixers
– JBL PRX800 Series Loudspeakers
– dbx DI1 Active Direct Box
– AKG P5i Microphone
– AKG MDAi CPA Connected PA microphone adapter
Martin Exterior Projection 1000, an unparalleled tool for permanent outdoor installations to integrate textures, patterns and graphics for limitless creative exterior lighting designs.
"The technology we are displaying at this year Infocomm is a blend of the future of conferencing technology and connected enterprise," said Prashant Govindan, Sr. Director – HARMAN Professional Solutions, India. "The show is very promising as Infocomm Society has gone a step further in their approach and are now actively participating in the public forums to shape up the future policies for the ICT industry."