N
etworked control automation solutions leader Crestron – coming to InfoComm India in its new, restructured
avatar
– sought to demonstrate its competencies across the areas of its target markets: Corporate, Education, Enterprise, Government, and Residential.
"We are not showing or selling products per se; we are rather showing solutions," said Gagan Verma, the newly appointed Executive Director at Crestron India. "We believe we drive better value and maximise the benefits of technology deployment to the customers in providing end-to-end solutions rather than individualized products."
Pretty much in line with its ideation and market approach, the Crestron booth sought to demonstrate the products categorised as per the segments. The solutions demonstrated on the booth included the much fancied table-top meeting room solution Crestron Mercury, the new secure 1Gb Ethernet network AV solution DigitalMedia NVX Series, the Enterprise-grade TSW room scheduling touchscreens, the SSW Room Availability Hallway Sign, and Vector performance loudspeakers.
Crestron Mercury – shown at ISE, and launched at InfoComm 2017 – has been one of the highlights on InfoComm India stand. The agnostic web collaboration application combines all the must-have conferencing and collaboration tools in one sleek, easy-to-use console, including open SIP conference phone, Bluetooth, built-in wired and wireless BYOD presentation, remote room booking and onscreen calendar display, as well as an occupancy sensor.
The DigitalMedia NVX Series – claimed to be the industry's only secure network AV solution capable of delivering 4K60, 4:4:4, and HDR video over standard 1Gb Ethernet – comes packaged with USB 2.0 routing, built-in DSP, and all-in-one encoding/decoding. A scalable network AV solution that can scale up from simple point-to-point setup to dozens of hundreds of endpoints, the NVX series promises to redefine the network experience with new sophistication with its Encoders/Decoders.
The new TSWs are enterprise-grade touchscreens simplifies the room scheduling processes by means of direct connectivity to scheduling platforms such as Office 365, Microsoft Exchange, and Google Teems. More, it leverages standard security protocols without needing a control system or programming.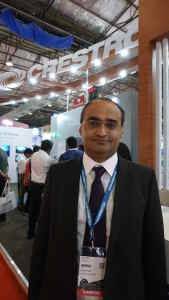 Gagan Verma
According to Crestron India ED, the automation major, having established its leadership in segments of Enterprise, Education, and Residential, wants focus its energies more on Government segment. "The Government Segment has been growing quite rapidly and with more dynamism," says Gagan Verma. "We see vast number of opportunities with huge potential, and that we have a wide basket of solutions too to meet those requirements, we have a particular focus on the segment."