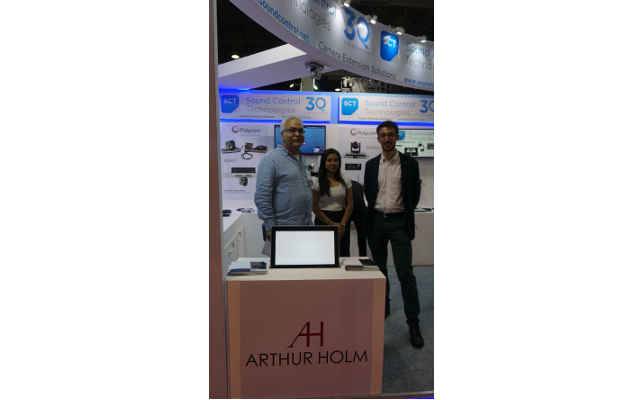 V
ideo conferencing monitor solutions provider Arthur Holm debuted at the InfoComm India 2017 with a view to pursuing its opportunities in the rapidly growing Indian AV industry. The Spanish major has joined hands with Mumbai-based AV solutions distributor Infinit Elements as part of its initiative on the Indian market.
Arthur Holm, which had hitherto been focusing more on the EMEA markets, apparently realized the rich potential that India had been promising for few years now, and is keen on seeking deeper penetration. It has had some limited success with some top boardroom installs featuring their advanced monitors.
"We understand India is a large market, and InfoComm India event is one essential platform for us to connect with the industry here," said Edoardo Curreri, Regional Sales Manager-EMEA & India for Arthur Holm. "We have had some very fulfilling interactions through the event here, as well as with some client meetings as well," he added. "It's very interesting, and we are very optimistic."
According to him, the company is keen on expanding its network in the country by having some dedicated regional partners to work with Infinit Elements towards strengthening Arthur Holm's presence in the country.
"Arthur Holm is a renowned premium brand for sophisticated video-conferencing solutions," said Sanjay Pareek, Director of Infinit Elements. "Our effort has been to bring the best of the global expertise to Indian industry; this is one aspect of it."
Very soon, they will have in place a network of regional partners to take the brand and its solutions deeper into the market, Sanjay and Curreri said.
www.arthurholm.com