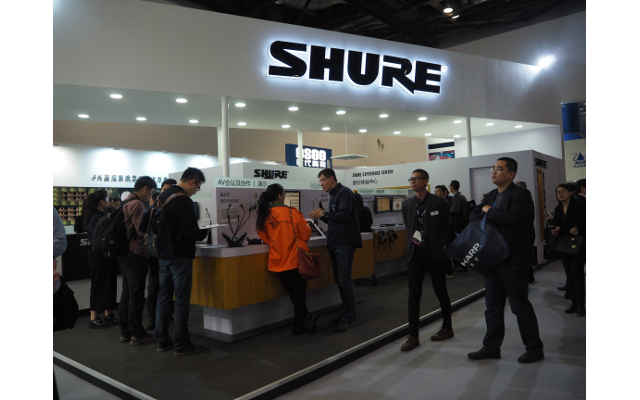 Shure has launched its newest addition to the ULX-D Digital Wireless Systems series for Chinese markets – the ULXD8 is a new meeting-friendly Boundary and Gooseneck Base Transmitter that can accommodate AV conferencing and collaboration as well as business conference needs.
Features include:
Intuitive one-button design
Configurable transmitter settings, including mute button, LED behaviour, high pass filter, RF power
SBC450 (4-bay) and SBC850 (8-bay) Networked Charging Stations that allow convenient charging and storage when transmitters are not in use
Compatible with ULX-D and QLX-D digital receivers
ULXD8 Gooseneck Base Transmitter compatible with 5, 10, and 15 inch Microflex Goosenecks
ULXD6 Boundary Transmitter available with cardioid or omnidirectional cartridges
The device is also Dante-enabled and offers good RF performance that enables solid signal stability and allows the usage of up to 560 channels in High Density Mode.
Other products showcased at the booth included Shure's Intellimix P300 Audio Conferencing Processor, which offers IntelliMix DSP algorithms optimised for audio/video conferencing applications. The P300 also provides Dante (10 in / 2 out), Analog (2 block in / 2 block out), USB (1 in/out) and Mobile (3.5 mm) connectivity options.
Other highlights included the Interpretation Console and Electronic Name Sign – designed to give conference interpreters greater control and flexibility, the Interpretation Console accommodates simultaneous interpretation of up to 31 languages, with Braille and audible cues added for visually-impaired users.
The Electronic Name Sign features a dual-sided 4-bit greyscale E-ink information display which enables meeting participants to identify themselves and others. Templates can be created/edited using the template editor in SW6000, and the screen is able to retain its image even when disconnected.