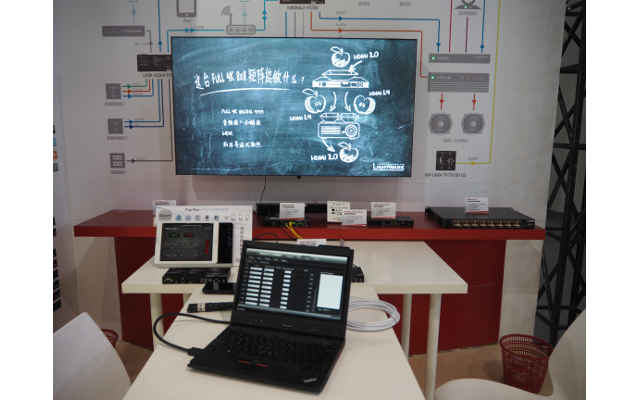 Lightware has shared that they are experiencing new growth into the Chinese market.
During the recent InfoComm China trade show, the company displayed several solutions including the MX2-8×8-HDMI20-Audio, which is the first Lightware HDMI2.0 standalone matrix switcher that supports 4K UHD resolution at 60Hz 4:4:4. Suitable for offices, meeting rooms, 4K live events and operation centres, the product has 8 HDMI2.0 inputs and 8 HDMI2.0 outputs transmitting up to 4K at 60Hz in 4:4:4 format, while supporting 3D, Dolby TrueHD and DTS-HD Master Audio.
However, the highlight of the booth was its displayed Event Manager, a smart, built-in feature in the Lightware HDBaseT compatible TPS extender family, the MODEX line and in some select matrix switchers like the MMX6x2-HT series units.
The Event Manager was developed to handle tasks like controlling the rolling shutter, the air conditioning system or the lights based on any condition changes on the media ports, such as a new source being connected or removed.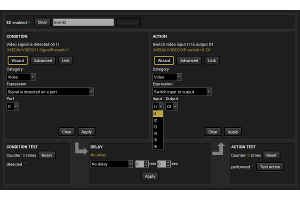 The Event Manager is continuously updated with additional features via firmware upgrades: a delay can be added between the condition and the action and more actions can be triggered by a single condition change. With the help of the 'condition count' and 'action test' features, the predefined settings can be tested before going live. The system can also recognise infrared commands which can also be set as conditions, and commands can also be sent via Ethernet.
Lightware Sales Director Aaron Lange says: "What that means for an integrator is that they can actually cut all the switching happening, and then with the software they can actually upload control functionality into a simple transmitter to reduce the cost of the whole installation and still give the customer some very useful control that they would need for a room."
"It's meant to be a super simple layer of control; you can actually do what any AMX or Crestron can do on a simple level. We're winning a lot of corporate clients over because of that. So, Google, Microsoft, GE… We've done a lot of good progress."
The Event Manager feature is available through Lightware's free Device Controller software.