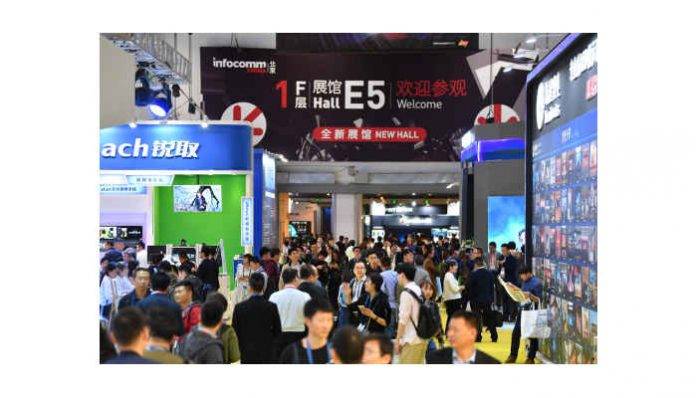 Y
es, the Dragon is rearing to roar, audio-visually on the Asian continental, if not the global stage. While visitors who had been to the 12th edition of InfoComm China (2018) in Beijing (11-13 this month), must have felt this factor to good extent, it would have felt more expressive for those seeing it for a repeat time! Growing not just in size but scale as well, IFC is going places – in products, processes, and, of course people – with an apparent message to the world of AV. It's a big platform out there for game-changing technologies and solutions.
An SIA perspective:
IFC 2018 in Numbers:
> 350 Exhibitors from 11 countries/regions
56 New Exhibitors
10 Exhibition Halls
>55000 square meters of floor space
World Premiere of as many as 11 technologies
72 New-to-China products/solutions
38,809 visitors
21% increase in footfalls
60 free-to-attend tech seminars
@5500 delegates
9% increase over last edition
Key highlight: Quickfire Arena
Numbers say it all, they normally say! But often there may be more to it than visible to the eye, and this is perhaps one of those occasions. It's not just about visitors thronging the exhibition halls in herds; nor about the multiples of expansive halls occupied by large exhibitor booths; neither it is about fancied products and solutions.
It is rather the spirit of technology adoption; passion to learn newer things and explore the higher opportunities of embracement, and contributing to a common good. It's a seemingly serious case of forging the Chinese excellence ahead with audio-visual technology brilliance.
How else one would explain that a country-specific show that the IFC is all about – in the strict sense of the term – there have been as many as eleven world premieres of cutting edge pro-AV technology, besides a good 72 new-to-china, including some new-to-the-world products/solutions launched at the show. While the increased number of technical sessions having increased delegate participation was one, the incredible AV solutions that some exhibitors brought to fore was the other- grabbing attention.
So, the 12th edition of InfoComm China had some big stakes to claim. The China National Convention Center (CNCC), Beijing, where the three-day event was held, appeared full of technology show all through in that it wasn't just about exhibition halls on three floors that got filled with AV booths and people, but also the Meeting Rooms, as well as the 'free spaces' on floor-three and four occupied by exhibitors taking enthusiastic visitors.
Addressing the large gathering during the Opening Ceremony, AVIXA's Chief Executive Officer David Labuskes underscored buoyancy of Chinese market as one good reason for IFC to evolve as an important event in the region. "Beijing InfoComm China is the region's premier event for showcasing professional audiovisual and integrated experience solution," he said and noted "AVIXA and InfoCommAsia continue to expand our trade show offerings in this exciting, growing region of the world."
According to AVIXA's Industry Outlook and Trends Analysis Report, the market for pro-AV products and services in China would reach over 250 billion yuan by 2022. Researchers expect to see rapid growth in control system adoption, new video display technologies, and AV technology services.
"That last one is an exciting sign of a vibrant, creative market, dedicated to bringing together all the technology tools…into solutions and experiences that solve customers' business challenges," observed the AVIXA chief.
This year's event dished out its own attractions in that it had:
As many as 60 free-to-attend insightful technology sessions – organized in association with four premier Chinese institutions, with a view to attracting a wider and focussed audiences to the programming.
A World Premiere of 11 distinct, soon-to-hit-world markets technology solutions to a strong media contingency of 30 reps from trade and business media
A new program called QuickFire, a series of 20-minute educational sessions designed for AV professionals of all experience levels. Conducted in a dedicated space called IFC QuickFire Arena, sessions focused on the latest industry buzz such as digital experiences, understanding 4K, acoustics, and more
"China is a very huge market; it offers great opportunities," says Kotaro Take, President, Uchida Yoko Global Limited, one of the first-time exhibitors at the IFC 2018. "There is so much demand for control systems, especially with so many Control Centers in almost every field…That's why we decided to participate in InfoComm China," he declares. "It's our first time participating in the show, and we have had very good response from the visitors. There have been many dealer enquiries, especially from overseas system integrators."
World Premiere of Reinforcing AV
Into its fourth outing since inception in 2015, the World Premiere has now become an important showcase of IFC. This year, it saw media reps being taken on a guided tour to 11 specially-selected exhibitor booths that were inherently Chinese. The exhibitors – some of whom were apparently seeking aspiring distributors from the visitors – demonstrated some truly incredible products-solutions.
The objective of the programme is to provide media persons with first-hand exposure to these solutions, and help them comprehend the technology competence and business opportunities these yet-to-hit-the-market solutions bring to place. Briefly said, the solutions include:
Beijing Bohui Science & Technology Co., Ltd – showed Bohui's Emergency Command and Dispatch System
BXB Electronics Co., Ltd. – demonstrated Clax Smart Classroom Solution
Citen Communication Technology Co., Ltd. – projected Protective eyesight giant screen TV
Crestron China – presented Crestron AirMedia Presentation System (AM-300)
Guangzhou Southwing Information Technology Co., Ltd. – displayed All-in-one display machine
Hangzhou Hikvision Digital Technology Co., Ltd. – exhibited Intelligent Platform for Conference
Shanghai Mviewtech Co., Ltd. MM7000 Thunder – brought Professional Videowall Processing System
Shenzhen Acorid Communication Technology Co., Ltd. – explained ACORID Exypons Series AI PoE Switch
Shenzhen YDEA Technology Co., Ltd. – unveiled Ice Screen Series
Zen-Ai Technology Zen-AI Technology – detailed new AI-IBOX
Zhejiang Guanxuan Intelligent Technology Co., Ltd. – demoed Smart ELF
Fascinating spectrum of audio-visual solutions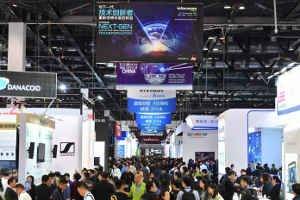 Notwithstanding the World Premieres, the IFC 2018 spread over in three levels of Halls C,D, & E, apart from the Meeting Rooms of the CNCC comprised a plethora of solutions that were dominated Artificial Intelligence (AI), Internet of Things (IoT), AR & VR, networked audio over IP, digital signage and Smart technologies. There have indeed been some truly fascinating system solutions from different segments of AV.
Fametal and Desk Media appeared to break new grounds of innovation in display monitor solutions – so much so that they challenge the current global leaders – while iBuild conferencing phone system promised to bring new blend of technology and performance at an arguably lower costs than fancied ones on the world markets. Laser Projection brought to show new possibilities with the technology like 6K seamless arc-shape projection, Sonnoc demonstrated full 360-degree projection on PoP surface.
The iBuild Co., Ltd is keen on exploring overseas market in later part of this year, according to its International Sales Manager Lu Wang, the two monitor solutions manufacturers say they are 'too busy with the domestic market demands itself.'
"Our market is so huge that we are always full with job orders," maintains Tong Wei, Vice-President of Desk Media, as also Liyun Yin Senior Manager at Fametal. "We do not think we need go out," they say. "The world will come to us, just like you did."
Other global/regional players had their own ways. Adder made a global launch of its new ADDERLink Infinity, an Enterprise IP-based KVM matrix solution that allows every console to have access to multiple computers. RGBlink demonstrated its first-to-the-world markets X14 Universal Video Processor that supports upto a massive 56 inputs and 40 outputs, besides a strong package of advanced video processing features for large display set-ups, including 4k@60 signals. Elsewhere, HDVCT exhibited Video Over IP Distribution and Video wall function, besides the HDMI2.0, 18Gbps 4K@60 4:4:4 and 16×16 matrix solution while visual solutions leader Optoma launched its latest 4K LED display scaler-switcher solution LS300T.
Also, one of the highlights of the event was the projection mapping and related opportunities shown up by almost all projection solutions manufactures while LED display solutions developers showed up their variance.
And, there are many- Analog way, Aten, Aurora, ClearOne, d&b audiotechnik, dataton, Gefen, Harman, Kramer, Leyard, Lightware, Mindstec, Sennheiser, Shure, Yamaha, and the like brining their solutions as an Asian extension from ISE 2018. As a generic tendency, most global manufacturers continued from their show in Amsterdam.
"We are pleased with the increase in number of visitors and summit attendees coming to the Show, majority of whom are senior management and high-level officials," said Richard Tan, Executive Director of InfoCommAsia. "We believe this is a testimony to our focus on striving for continuous improvements and innovations in order to curate high-quality programs and platforms, and deliver the best experience for all stakeholders."
According to him, one of the important things about the Chinese (market) vibrancy is their willingness for in-depth learning. A very strong characteristic of Chinese- they like data and complex combinations, and they are not scared of tomes of information. "They want to embrace technology with the minutest possible detail; that helps them understand how things are made outside world, and how they can better those things," Richard says. "It's a constant and unsatiated desire to master the finer detail that makes them grasp technology faster than most."