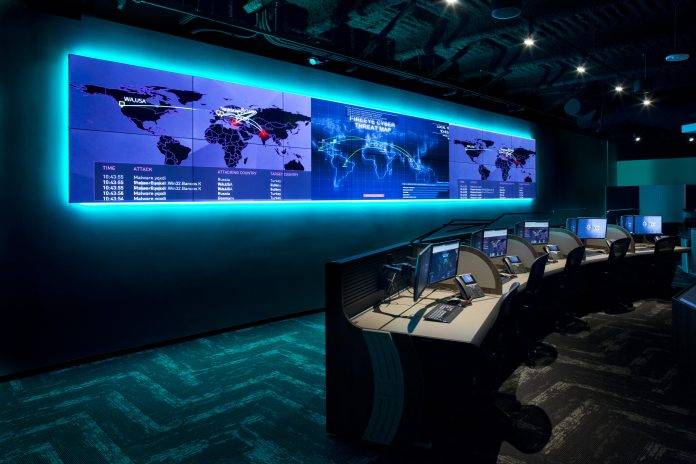 A
Cyviz Easy Platform is at the heart of a command center that depends on reliable and high-quality communication.
The not-for-profit health system has approximately 24,000 employees spread among 14 hospitals and 200 other locations located throughout a US greater metropolitan area.
Supporting the IT requirements of an organization of this size can have its challenges. There are over 700 employees in the IT department, all dedicated to keeping the health systems' technology infrastructure running smoothly. Until recently, these employees and their departments were spread out across various buildings on the main campus.
The operations team was in one building, the helpdesk in another, and their level three IT support engineers in a third building. This resulted in very siloed communications, making timely collaboration between the groups difficult.
This was particularly true for their helpdesk, which receives about 30,000 calls per month. Because the second and third tier support teams were located in other buildings,
support tickets that required escalation sometimes took longer to resolve.
Two years ago the technical services department set out to find a future- proof solution to improve the collaboration between teams and the time required to take action. Their goal was to put everyone responsible for keeping the organization's many IT systems up and running together in the same room.
This would greatly improve collaboration between the disparate groups and allow for far quicker reactions when a problem arose.
Ultimately, this would minimize downtime of the systems and increase the number of helpdesk tickets that could be resolved during the first call. With a budget of $2 million and approval from executive management to build a 6,000 square foot Command Center that would combine network operations center (NOC), helpdesk, and Command & Control
center together under one roof, the IT Director began to research the best way to bring these teams together.
Working with several trusted IT partners, the Director dug deep into designing the details of the new Command Center, focusing not just on the technology and infrastructure, but also making sure to address the high stress that comes with the job. He brought in sound experts, collaboration experts, and ergonomic specialists to assist with room design, all to make sure that the staff would have an optimal working environment.
The vision was to build a cutting-edge technology center that integrated the command conference center with the Level 3 NOC engineering team.
"Healthcare is changing, and we have to change with it," commented the Director.
"Almost all of our hospitals are now digital, meaning they are 100% paperless. Everything from x-rays to admitting, to testing and departure is done online. Today more than ever, it is critical to keep systems available at all times. Downtime is not an option."
With this in mind, it was decided that a 32' display wall would be the centerpiece of the Command Center. The wall would be used by Level 3 NOC engineering as well as the command center to monitor the network infrastructure. This way, if there was a major problem due to weather, or an outage of some sort, the video wall could be used to display critical information needed for the company's executives and people actually working on the problem.
Additional panels were integrated on the opposite side of the building for the engineering teams.
This way, leadership would have a view outside their offices to see what's happening in the Command Center in real time.
Cyviz was chosen to provide visual display, collaboration and control solutions for the Command Center. They delivered a turn-key solution around the centerpiece 32' x 4.5' display that involved the connectivity of a dozen computers, multiple incoming video streams, wireless in-room connectivity and audio solutions into one system.
The Cyviz Easy Controller is the brain of the entire system, providing routing of video signals, routing of keyboard/mouse for the six operators to choose between the dozen computers.
They can source SAT TV signals, zoom in on critical pieces of information and adjust the lighting in the room for different operational situations.
The goal was to create a very powerful system that is easy to operate and easy to maintain. Training for new operators occurs in minutes, where competitive solutions required days of training to become knowledgeable on how to use the system.
According to the IT Director, Cyviz is at the heart of the new Command Center. "Key in our decision to go with Cyviz was their user interface," he commented.
"It is simple, easy to use, and it works with any kind of mobile device. We needed technology that actually works in this mobile world we now live in, and our goal was to get away from having to use proprietary technology, cables or devices to manage my equipment. Cyviz delivered on all fronts."
The new facility went live in July 2016. It now houses a staff of 60 working together to deliver on their promise of keeping the Health Center's systems up and running smoothly. Should a major problem occur, the IT Director and his team know that the Command Center is ready to ensure delivery of critical information needed for the executives and people working to resolve the problem – all under one roof.