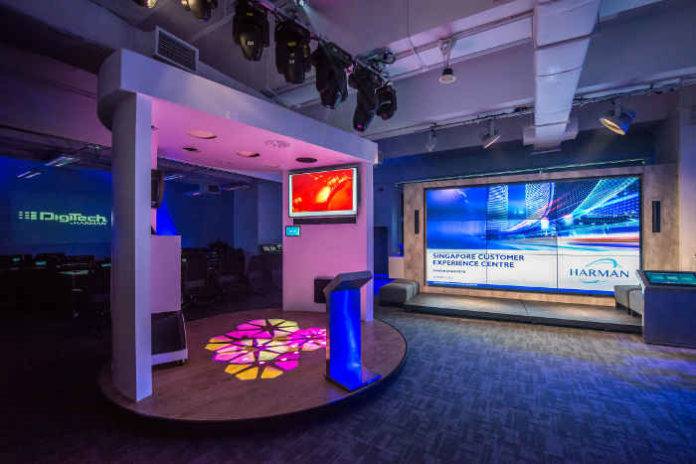 T
he new HARMAN office in Singapore has brought together the different operations of HARMAN in Singapore under one roof. AMX and Professional Audio, Martin Professional and Lifestyle Audio had worked in different parts of Singapore, before this.
The process actually started late last year when the HARMAN Professional Audio Asia office that was based in Kuala Lumpur, Malaysia, moved lot, stock and barrel to the HARMAN AMX office in Singapore. The intent however was to always have all HARMAN divisions under one roof, to further integrate the Professional Solutions businesses of AMX, Martin and Professional Audio, and thus the new 18,000 square feet office now located across the second level of Golden Agri Plaza along Pasir Panjang Road has achieved that and more.
About 100 personnel occupy the space which includes sales, admin, technical and service personnel. But the crème de la crème of the space is the 3,620 square feet of space taken up by the Professional Solutions Experience Centre.
Newly minted Vice President and General Manager of HARMAN Professional Solutions, Ramesh Jayaraman, highlights that the centre will allow visitors to explore the latest innovations and learn how HARMAN technologies are being connected in new and exciting ways.
The Singapore location will develop the theme of "Engineering a Connected Enterprise" by inviting customers to learn how the world's foremost venues, theaters, recording studios, commercial facilities and hospitality spaces use integrated HARMAN products and solutions. Through interactive touchpanels and live demonstrations, guests can experience the latest in networked AV, broadcast 4K video and other audio, video and lighting technologies.
The HARMAN Singapore office is also the APAC Regional HQ and thus not surprisingly a seven figure sum was invested in relation to the office. But more than that, HARMAN is also heavily investing in people as it plans to grow its business in the region.
"The Experience Centre is a focal point. Our distributors, dealers, SIs, Influencers and potential clients can now experience how our solutions can provide them an integrated experience," said Ramesh. "If they want to understand how something would work or look like, the space provides them that opportunity. HARMAN has transformed from a products based to solutions based business, over the years. More importantly we are now creating experiences through merging our different technologies and exceptional experience is what every customer is looking for. We are in the position to offer that to them."
The Experience Centre is designed such that the space can be easily modified should there be a need. Most equipment are placed on stands with wheels for easy manoeuvrability. There is also a space provided within the Experience Centre for training, which can be partitioned off if need be.
Look out for interview with Ramesh Jayaraman in the Dec 2016 – Jan 2017 issue of SI Asia.