H
arald Stöhr is the head of the Technology department at Messe Friedrichshafen GmbH. A slightly different kind of exhibition company, as it is organised entirely privately and, with only 85 permanent employees, is one of the smallest trade fair companies in Germany. Three technicians shoulder all of the in-house technology, and there's rarely a week without a trade fair.
The floor plan of the exhibition centre is reminiscent of those in Rimini and Munich: two adjacent rows of halls with two end buildings with open space in between. This means that it is possible to take a look at everything by walking in a circuit, but it is also possible to cross quickly back and forth between one hall and another. And because it is at ground level, there is less annoyance with waiting for gates during assembly and dismantling.
Both end buildings, south and north, are significantly higher and also have a first floor, which is where the conference rooms are located. The company also rents these rooms independently of trade fairs. Small to medium-sized meetings and conferences take place in these rooms, just a stone's throw away from the zeppelin yard and very close to Lake Constance.
Harald Stöhr presents both conference centres with their different sized conference rooms, which were fitted with new beyerdynamic TG 1000 radio microphone systems in November 2016. When they were replaced, the old systems were neither defective nor outdated. The problem was the 'digital dividend', the sale of radio frequencies.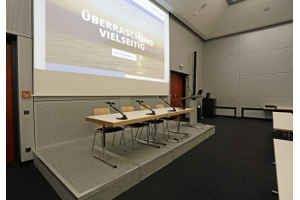 In other words, the radio frequencies that the systems were working on at the end of last year were no longer available as the German Federal Network Agency had sold them. So it was an imposed transition, so to speak. Or as Harald Stöhr says: "We had to manage until the end of the year because of the loss of radio signals that had been auctioned off for mobile communications.
But thanks to new digital technology – and a talented technician – the transition was easy. Both conference centres were converted within one and a half days, radio link by radio link. While the microphones in conference centre west are currently still locally bound, the ten headsets and ten handheld microphones in conference centre east are now set up to be freely selectable.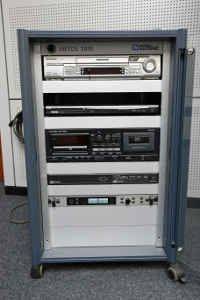 One of the advantages of the digital TG 1000 system is the option of connection to a media control system if needed. The type of transmitter (handheld or beltpack) and the microphone capsule attached to the handheld transmitter are recognised automatically – a suitably programmed media control system can immediately call up a suitable preset for correcting the level and sound in downstream DSPs when the transmitter is turned on.
These conference rooms have just one small, discreet antenna suspended from the ceiling and in the utility room the receivers are bundled in a rack with the corresponding Crestron crossbars as signal distributors, while each conference room in the old conference centre west still has a mobile rack of receivers.
With the new TG 1000 microphone system, Harald Stöhr and his team from Messe Friedrichshafen are not only playing it safe with the UHF's enormous bandwidth of 319 MHz, but their work has also become much easier and more customer friendly.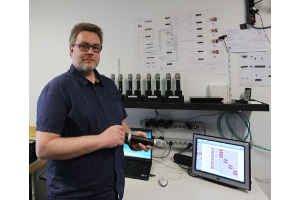 As Harald put it: "The speaker with the handheld microphone spoke with a sonorous voice, the speaker with the headset was quieter. With the new system, it was easy for me to regulate the sensitivity directly using the receiver, thanks to the intuitive menu – not like before when it was done on the transmitter and you would have to go in, screw open the
microphone and correct the sensitivity with the screwdriver. Now I do it on the TG 1000 receiver without having to interrupt the speaker and disrupt the course of events."
Another advantage of the new TG 1000 system is its ability to run a frequency scan. Stöhr reports on TV teams whose material arguably didn't really comply with the current radio regulations. "We had disturbances with the old system because they were simply transmitting far too strongly. With the new system, I can scan frequencies and then simply switch onto a different frequency with the corresponding microphone and the problem is instantly solved."