Electro-Voice and City Music are co-organising a "Sound of Worship" seminar series targeted at consultants, sound crew, Musicians and Personnel from the House of Worship segment. The seminar series is to be hosted at the City Music Showroom by Robert Soo of Cogent Acoustics who serves as Chairman & Advisor of the Audio Engineering Society in Singapore.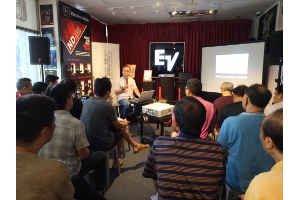 The first of the seminar series was held on 27th May, where Mr. Soo spoke on critical aspects that either hinder or contribute to getting a good quality sound for houses of worship. Topics covered over the 2 hours session included defining sound quality, selecting the right sound equipment, getting the most via system optimisation, good and bad sound mixing practices, non-equipment factors that affect the sound quality, etc.
Electro-Voice key objectives with the seminar is to help level up the industry end-user's and sound operator's audio competency and fundamental to achieving great sound, the approach to understanding and choosing the correct type of sound system design deployed for the intended space. "This seminar is very much focusing on audio and system design considerations knowledge rather than products. We also hoped that this platform provide us an opportunity to reach out to many aspiring sound crews and musicians in Singapore," said Gordon Lee of Robert Bosch (SEA) Pte Ltd.
The choice of holding the event at City Music's showroom was also intentional.
"Holding it in a music shop set the tone of the seminar in a lively environment rather than having it in a normal seminar classroom set-up. City Music provides just the right setting for this event. More importantly, it brings in the crowd to our partner's showroom, the perfect shop for any sound speaker system and musical instruments to equip their next venue," added Gordon.
The topic and the venue definitely brought great response and in fact it was an overwhelming response for the first of the series. The next two series of seminars are planned to be held in the month of August and November.
Robert Soo adds, "A very good thing that City Music did was to first gather initial inputs from participants who registered via their website. This information was very helpful towards ensuring that the workshop topics are tailored and well in line with the sound issues highlighted. There was good participation with a continuous string of good questions raised. At the end of the day, I believe the audience, made up of a good mix of sound crew, musicians, etc. went home with useful handles that they can apply immediately that very Sunday."
Hoe Hsin Loong, of City Music Pte Ltd was pleased with the whole arrangement, "We were absolutely thrilled with the turn out for the first Sound of Worship seminar. The registrations kept coming in and we had to double the capacity just to accommodate everybody. Robert Soo's talk was extremely insightful and engaging. Everyone who came sat right through the 2-hour session. We look forward to seeing everyone again at the next installment of the Sound of Worship!"
www.electrovoice.asia
www.citymusic.com.sg
www.cogentacoustics.com