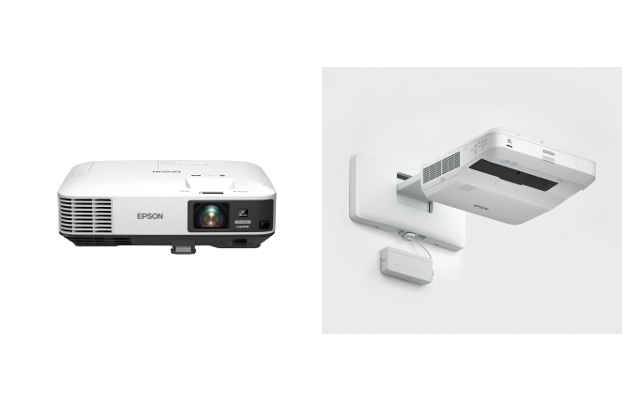 Epson has announced the launch of two new products, the 3LCD EB-2000 series projector and the EB-1400 series projector.
The 3LCD EB-2000 is a business projector that boasts an enhanced brightness of up to 5,500 lumens of white and colour brightness with a superior contrast ratio of 15,000:1, with a range of resolutions from XGA to WUXGA. The eco-friendly light optimiser sensor detects environment brightness levels and automatically adjusts the projector brightness for power and cost savings.
The 3LCD EB-2000 also offers the first-of-its-kind gesture presenter feature, which allows users to conveniently control presentations just by tapping on the projected image, eliminating the need for clickers.
Other features include:
MHL-enabled HDMI input for mirroring of Android mobile devices
HDBaseT1 support for transmission of UHD video/audio content
Miracast function2 for screen mirroring with wireless transmission of full HD video and sound from compatible smart devices and laptops
Multi-PC projection capabilities – connects up to 50 terminals through a host PC
iProjection app with new QR code function for easy connection
Built-in camera for automatic vertical and horizontal keystone correction and real-time keystone adjustment
Split-screen feature allowing input from two different sources to be displayed side-by-side
The EB-1400 series comes packed with innovative features and brings enhanced collaboration and productivity for corporate or education environments. Features include interactive whiteboard sharing, multi-location interactivity and remote desktop connectivity amongst others.
Consisting of models EB-1460Ui and EB-1450Ui, the EB-1400 series offers a dynamic interactive experience with an in-built 50-page digital interactive whiteboard that comes with enhanced sharing features, enabling up to 15 laptops and mobile devices within the network to view and co-create live drawings and images in real time for active collaboration. Users can scan a QR code to join, and easily access the shared whiteboard via their device's web browsers.
Other features include:
PC-less interactive functionality feature – users can write on any image projected from a non-PC source such as smart devices, document camera or Blu-ray player.
WUXGA beyond Full HD resolution of 1920 x 1200, and an increased brightness of 4400 lumens for EB-1460Ui, and 3800 lumens for EB-1450Ui.
Longer lamp life – 5000 hours in standard mode and 10,000 hours in Eco mode.
Easy Interactive Tools 4.20 software – supports up to six fingers and dual interactive pens at the same time
Dual-screen support up to 100-inch screen size for each projector, can be paired to create ultra-wide interactive screen of up to 177 inches
Multi-PC projection capabilities – connects up to 50 terminals to a single projector
Multi-location interactivity feature allowing real-time synchronised interactivity on up to four projectors
Two HDMI ports, one of them MHL-enabled
In-built Wi-Fi connectivity
Miracast wireless screen mirroring of Android mobile devices
The retail prices of the EB-2000 series projectors range from SGD $1499 – $3699, while the EB-1450Ui and EB-1460Ui retail at SGD $4055 and $4450 respectively.