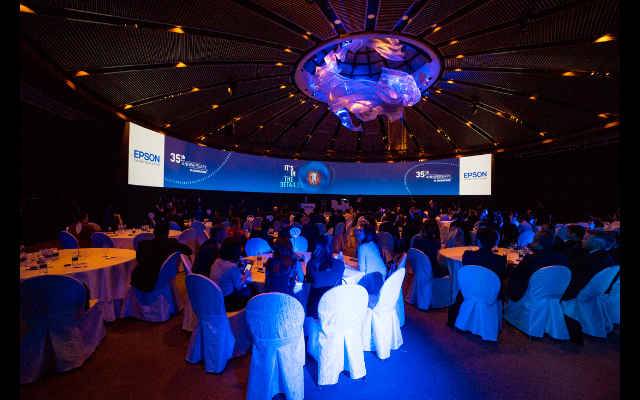 E
pson Singapore recently celebrated its 35th anniversary with a product showcase and sharing its latest innovations in inkjet printing, visual communications and industrial robotics on 31 October 2017 at Capella Singapore. Showcased for the first time in the region were the Moverio smart glasses BT-350 and BT-2200, alongside other key products including the T3 industrial robot, a digital textile printer and other innovations.
The new models of its Moverio BT-350 and Moverio Pro BT-2200 smart glasses feature enhanced durability and flexibility for an improved augmented reality experience, built to the demands from commercial and industrial users.
Both the new models feature binocular see-through augmented reality capabilities and HD-image quality. Leveraging Epson's patented optical and precision technologies, the Moverio line of smart glasses has micro projectors located on each side of the eyeglasses that project transparent overlays of digital content directly in the user's field of view over the real-world environment.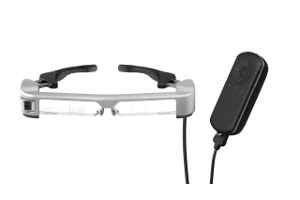 The Moverio BT-350 is designed for heavy usage and for sharing among multiple users, and is well-suited for multi-unit fleet environments where smart glasses are shared by a variety of users, such as museums, city tours, amusement parks or other visitor attractions. The BT-350 can also be useful in providing real-time visibility to remote experts working with technicians installing, repairing or being trained on high-value capital equipment, especially in the medical, logistics and manufacturing fields.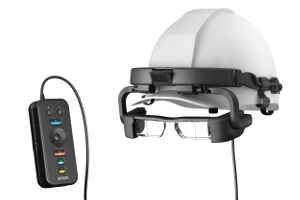 On the other hand, the Moverio Pro BT-2200 smart headset comes with a new hinge specifically designed to fit over front brim helmets, and is built for helmet-mandatory environments such as construction worksites. The smart headset also complies with ANSI Z87.1 safety glass standards, is IP54 certified to withstand dust and water, and can withstand a fall from 1.2m.
Both the Epson Moverio BT-350 and Pro BT-2200 will be available from
Q4 2017
in Singapore, Malaysia, Thailand, Philippines, and Indonesia.
Epson also announced its commitment to its business and office segments as it moves to strengthen its product offerings for enterprise and corporate customers in the B2B space.
Epson will continue to leverage its core technologies by drawing on its manufacturing expertise to create new innovations in its key areas of inkjet, visual communications, wearables and robotics that will bring new value to its customers through precision and smart technologies that will reduce the impact on the environment.
"Epson takes a unique approach to innovation and business, and is backed by a long history of artisanship and attention to the details. We are moving to expand our focus and deepen our efforts to serve the high growth potential markets in a range of business segments. We aim to continue to bring innovations to our business customers that will deliver on precision and performance, and to push the boundaries of imagination and possibility," said Tanaka Toshimitsu, Managing Director (Southeast Asia), Epson Singapore.
www.epson.com.sg