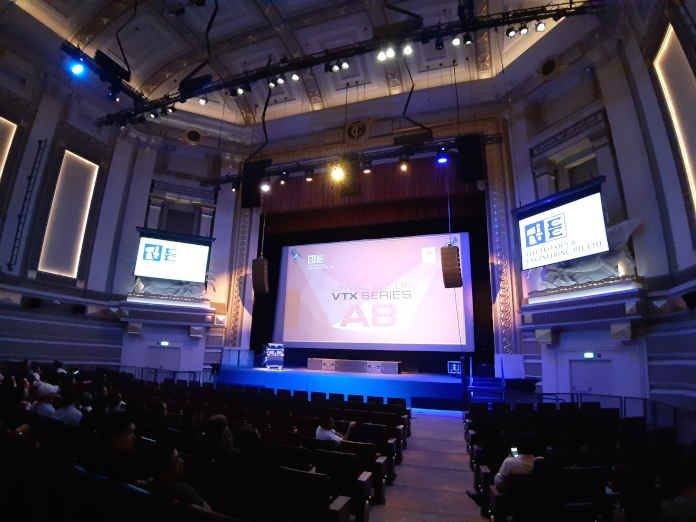 Electronics and Engineering Pte Ltd (E&E) and its Malaysian subsidiary Systems Electronics & Engineering Sdn Bhd (SENE) who are the official distributors of HARMAN professional solutions audio range in the respective countries held the launch of the much anticipated JBL VTX compact line-array A8 and the B18 Subwoofers in Singapore and Kuala Lumpur, Malaysia last week.
Both events saw a strong turnout from the industry as anticipation had built-up since the launch of the speakers last year. This is the first time both the speakers were being shown and demonstrated in the two countries.
What is attention-grabbing about the speakers? The JBL VTX A8 is a dual 8" line array loudspeaker that combines proprietary JBL transducers and latest-generation high-frequency waveguide acoustic design to provide unmatched performance, efficiency and 110 degrees of horizontal coverage. The smaller, lighter cabinet offers a compact footprint in a compact size whilst still maintaining high output and sonic consistency with the VTX A-Series family.
The VTX A8's 8" neodymium low-frequency woofer is based around JBL's 4th-generation Differential Drive technology, featuring a dual-voice coil, dual-gap configuration that maximizes excursion, power handling and sensitivity. Midrange drivers are integrated into JBL's patented Radiation Boundary Integrator (RBI) for a seamless transition across each band and maximum transducer density.
And VTX A8 integrates two instances of the JBL 2423K 2" compression driver found in the larger VTX A12. The innovative JBL 2423K driver combines the compression drive, phasing plug and line array waveguide in a single part, which provides increased accuracy and sensitivity, along with lower distortion and lighter weight.
With the VTX A8, every seat is a sweet spot: Its tight 110-degree dispersion pattern down to 350Hz makes it ideal for small- and mid-size venues, front fills and other applications that call for controlled, uniform coverage over a wide listening area.
The VTX B18 subwoofer features JBL's new 2288 single 18" woofer engineered for improved linearity and a wider dynamic range. The new woofer takes advantage of JBL's patented 4th-generation Differential Drive technology to deliver higher output, extra-long excursion, lower distortion and ultra-low power compression.
In addition, the B18 incorporates JBL's patented SlipStream double-flared exponential low-frequency port design to improve airflow and reduce audible turbulence even at maximum excursion.
Both the VTX B18 and VTX A8 adopt the signature VTX A Series full-face powder- and zinc-coated grille design, which protects components from extreme conditions and contributes to a high Ingress Protection rating (IP55); grilles can be finished in a variety of colours to suit fixed installations.
The VTX B18 and VTX A8, together with A12 and A12W loudspeakers, Crown i-Tech HD amplifiers and JBL Performance Manager Software, give audio professionals a complete toolset for designing the optimal sound system for any scale rental, performing arts or fixed install application.
The little details in relation to ensuring a lighter and smaller footprint when transporting for tours and the patented JBL rigging mechanism and redesigned suspension system to ensure ease of deployment as well as the smart packing of the rollable trays to save space caught the attention of the guests.
Sound Engineer, Jeyaraj D.A. commented, "The sound and the compact size is good. The technology behind the speakers and the design is impressive. The speakers are portable and from what I can see the set-up is easy which I feel will be especially useful for the AV guys."
The launch in Singapore was held at the Capitol Theatre and saw more than a 150 professionals listen to the system. The Malaysia launch was held at the Sunway Resort Hotel & Spa Grand Ballroom and was attended by over 100 industry professionals. Both the VTX A8 and B18 are now available with immediate effect for both countries.
"HARMAN Professional Audio Brands and Solutions are well established for their technological superiority and world class quality and E&E is pleased to offer the latest product from iconic JBL brand to our customers in Singapore." said Gary Goh, Deputy Managing Director, Electronics & Engineering Pte Ltd.
"This product meets the diverse sound reinforcement needs of our Singapore and Malaysia customers ranging from production companies, rental houses, theatres and houses of worship and we expect JBL VTX A8 to be a game changer in the fixed installation markets."