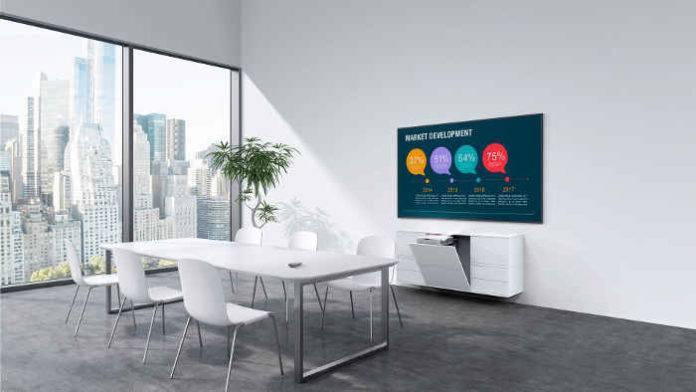 Danish optical projection screen supplier dnp has announced two additions to its furniture range designed for their 100" optical flat screens, the LaserPanel and LaserPanel Touch.
By combining optical screen technology with Ultra Short Throw Laser projection, the LaserPanels shoot from steep angles to offer high-contrast images at a lower cost per screen area square inch of LED-backlit LCD screens. The LaserPanel Touch has a rigid screen, interactive camera and IR pens for interactive presentations.
The optical flat screens were shortlisted for an AV award in the "Best Display" category after their launch last year, and sparked the demand and production of AV furniture that allowed users to hide the projector and store their AV equipment.
"By adding AV furniture to our product range we move from being a screen company to a provider of display solutions. Our goal is to make it as easy as possible for our partners to create and sell stylish AV solutions that match their clients' interior designs," says Soeren Kraemmergaard, VP of Global Sales and Marketing at dnp.
The designs that will be introduced at ISE 2017 are a projector cabinet with a manual drawer (more cost-effective than the motorised "Executive" projector cabinet) and a mobile display stand that makes it easier to move the dnp LaserPanel around if needed. These additions are aimed at making dnp LaserPanels easier to install and access.
dnp has also announced that it will be launching rental versions of the 100" dnp LaserPanel for users who need big and bright temporary displays for pop-up shops and events. Touted as an effective way for users to expand their markets, the rentals will allow users to access the displays without having to make large commitments on their parts.
The new furniture solutions will be present with the LaserPanel and LaserPanel Touch at the Integrated Systems Europe trade show, with the updated version of the retractable Supernova Flex Classic also on display.
dnp will be located at stand 1-E69.
dnp screens and solutions will also be showcased by Digital Projection, COMM-TEC and Casio.