O
n the 370th birthday and the 300th anniversary of the death of Gottfried Wilhelm Leibniz, the Leibniz research museums showed a joint, interactive exhibition with technical support supplied from eyevis touch tables. Called "8 Objects, 8 Museums", the exhibition was shown as a simultaneous exhibition at each of the eight multi-faceted multimedia tables.
Apart from its role in the anniversary exhibition "8 objects, 8 museums", the eyevis touch tables are also being used by the Leibniz Institute for Knowledge Media (IWM) in Tübingen, which has developed a digital information exchange system called EyeVisit. This system is now being used as an application on the eyevis touch tables and is combined with tablets as mobile information providers for the Leibniz research fairs, allowing visitors to retrieve targeted exhibit information.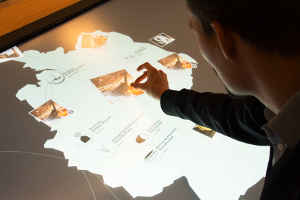 Largest Touch-Displays
Each table consists of a touch screen EYE-LCD-8400-QHD-V2 with 84-inch screen size, full QHD resolution and edge-LED backlight. These are the largest touch displays for permanent horizontal table operation with a screen size of approximately 2.05 × 1.15m and a 50-point touch surface on an infrared base. A special bracing ensures that the displays remain absolutely plane and do not bend even when reaching higher temperatures in operation. A six-millimetre-thick anti-reflective glass surface provides a robust user-interface for the large numbers of visitors touching the displays every day. With this size and the low viewing distance of the users, the high resolution in Full-QHD comes into its own: The table shows sharpest images, even from a single arm distance.
Extraordinarily powerful
"This application requires powerful hardware," explains Michael Reichart, who has overseen the project as a sales representative for control room, presentation and information at eyevis.
"Not only the touch table itself marks the latest technology. Our industry-standard high-performance computers from our new netPIX Rage series are also one of the best with their high computing performance and their high-performance graphics cards. They are powerful enough to present this complex application fluently in multi-user mode."
Up to four visitors can use the interactive EyeVisit program at the touch table.
eyevis also provided the table mechanics for the touch displays. Here, the Leibniz-Community wanted a stable custom-made solution which was realized through a tailor-made bent metal structure.
eyevis and the IWM Tübingen (Leibniz Institute for Knowledge Media) have been working together on various projects since 2014. The Leibniz-Institute already has several eyevis touch tables in operation. Their tried-and-tested everyday use finally led to the successful implementation of the EyeVisit project and ultimately to the implementation of the exhibition "8 objects, 8 museums".
The exhibition runs until June 30, 2017.