T
he
Pablo Center at the Confluence
is a fine arts center with grand aspirations. The 143,000 square-foot space includes a 1,200-seat proscenium theater, and a light, sound, and video production lab, among many other rooms.
One publication described The Pablo Center at the Confluence as the center of gravity for a growing orbit of arts and cultural institutions in the northwestern Wisconsin city of 65,000 residents and home to the University of Wisconsin – Eau Claire.
AV integration firm Camera Corner Connecting Point (CCCP) of Green Bay, Wisconsin assisted in the design and installation of the center's audio and video systems, which include over 60 x Danley Sound Labs loudspeakers and subwoofers powered by Danley's multi-channel DNA amplifier/DSPs.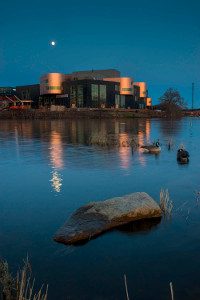 The Pablo Center hired Threshold Acoustics, of Chicago, Illinois, to handle the acoustic and sound system design for the two larger spaces in the building – the proscenium theater and the JAMF black box theater. They hired CCCP to design AV systems for all the other rooms in the building, as well as the video systems.
"The practice spaces didn't have any particular loudspeaker manufacturer specified, but when they asked us to run the numbers on filling them with products from the proscenium theater's loudspeaker manufacturer, it was way over budget," said Scott Tomashek, Director of AV Design and Engineering for CCCP.
"I explained that Danley would be a great option. People have this idea that Danley boxes are super expensive, but they're not."
"They deliver state-of-the-art performance at a price that would allow the Pablo Center to more than meet their performance specifications, which required both volume and critical-listening fidelity."
Since hearing is believing, Tomashek suggested a demo, and Jason Anderson, Executive Director of the Pablo Center at the Confluence, agreed. Don Ludwig of Ludwig Marketing, Danley's representative in the upper Midwest, brought a Danley SM96 loudspeaker and a Danley TH118 subwoofer for the demo.
"We were able to fly the system, and it wasn't long before Jason was completely convinced," Tomashek said. "After that, we just hung out and enjoyed listening to tracks we like on the system. Jason used to be the production manager of Grammy-winning band Bon Iver and had heard their recordings literally thousands of times on different systems."
"He was amazed to hear details in the recording on the demo Danley system that he had never heard before. It was a real credit to Danley fidelity and an immediate selling point."
Each of the five rehearsal spaces uses 4 x Danley SM96 loudspeakers – one in each corner – for mains and a single Danley TH112 subwoofer. Four-channel Danley DNA 10k4 Pro amplifiers drive the loudspeakers and subwoofers.
"Using the Danley amps made the setup and commissioning easier due to built-in DSP presets for the various Danley models," Tomashek said. "The Danley hardware made it easy to hang the speakers off the pipe grid in these spaces. I worked with local fabricators to make custom rigging plates to suspend the subwoofers from the pipe grid as well."
Given Anderson's new enthusiasm for Danley, he and the team from Threshold agreed with Tomashek's suggestion to switch the JAMF black box theater over to Danley as well.
"Since it's a black box theater, we fitted the speakers with clamps to allow them to be reconfigured for different shows and applications," he said. "A total of 8 Danley SM96s are dedicated to the JAMF along with 4 Danley TH112 subwoofers and 4 Danley SHMicros. All are powered with Danley DNA 10K4 Pro amplifiers."
A Yamaha CL3 digital console serves as the system's nerve center and feeds the Danley amplifiers via Dante. Aaron Johnson, a consultant with Threshold Acoustics, tuned the system, starting from the Danley presets that come with the Danley amplifiers.
The Pablo Center's light, sound, and video production lab includes "more Danley boxes than would seem reasonable given its size," in Tomashek's words, a fact that reflects the flexibility necessary for such a space. There are 4 Danley SH60 loudspeakers, 4 Danley THmini subwoofers, and 16 Danley SHMicros, all flexibly powered by 6 x 4-channel Danley DNA 10k4 Pro amplifiers.
"They're going to be teaching sound, lighting, and video design, and plenty more in the lab," Tomashek said. "The DSP in the Danley amplifiers is extremely flexible and will allow them to make any scenario happen."
"All the Danley SHMicros can be used as effects speakers… or really whatever they want. They could even do high-dimension surround sound systems."
He continued, "Danley support was extremely helpful during the installation process. We immediately got someone knowledgeable on the phone to handle the small issues that pop up during an install of this size. Danley has been a great partner throughout the process and we look forward to doing more projects with them in the future."