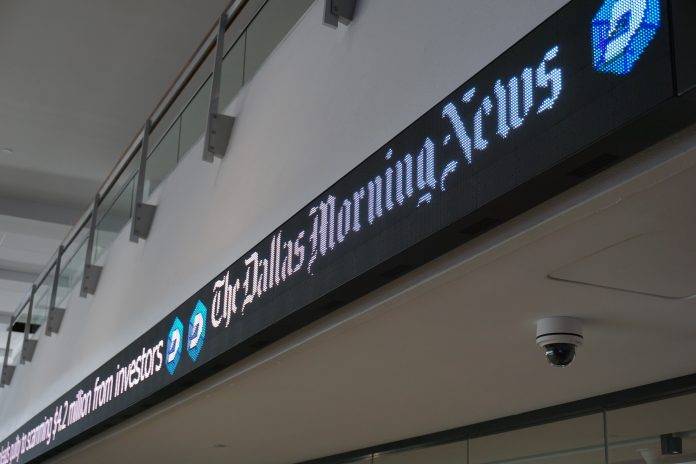 The Dallas Morning News newsroom has been delivering breaking stories and commentary to residents of the Dallas-Fort Wort, USA, area for more than 130 years.
The historic newsroom, built in 1951, received an oversized technology upgrade with the integration of a 6mm pixel pitch, 75' wide by 2' tall NanoLumens Nixel Series LED.
The display that serves as a 24/7 news ticker showing the organization's latest headlines.
According to Gerald Reeves, Project Manager for Facility Solutions Group (FSG), which installed the display, the Dallas Morning News wanted a cutting-edge technology that, in the end, only NanoLumens could provide.
"Facility Solutions Group recommends NanoLumens products as a top-tier display solution, and that is exactly what this installation required," Reeves said.
"We considered other manufacturers, but in the end, there was little comparison."
"Our clients trust us to deliver the ideal technologies to satisfy their needs, and NanoLumens' unique products and capabilities are increasingly considered the best-of-the best."
The plaster-finished mezzanine where the display was to be mounted was built in 1951 and required significant engineering to develop a support structure that would retain the architecture's historical value while supporting the massive LED display.
FSG used 3D modeling to ensure tolerances were within limits and all expectations were met to the historical society's satisfaction.
"The new ticker display at Dallas Morning News is further proof that we can deliver stunning LED displays in whatever size and shape is required," said Eric Siegler, NanoLumens Regional Sales Manager – Southern Midwest.
"Whether they are intended for a single purpose or to be used for varied content and audiences, NanoLumens can design and build a display for any location."
"With the ability to provide ultra-fine pixel pitches down to 0.9mm, build curved and flexible displays for indoor and outdoor use, a front-accessible design that simplifies maintenance and the industry's most generous 6-year down-to-the-pixel warranty, it's no wonder organizations and integrators across the country are choosing NanoLumens."