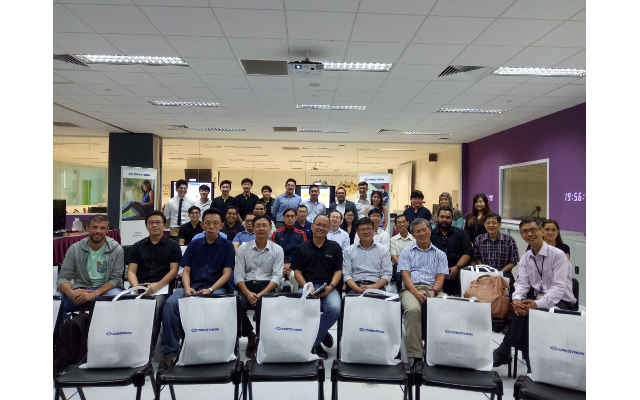 L
ed by Crestron Singapore, and in partnership with the Institute of Technical College Central (ITE), LG Singapore and Epson, a presentation on Technology Trends for Tertiary Education was held on 15th November at ITE College Central.
The presentation attracted a decent turnout of guests from private tertiary educational institutes, polytechnics, other ITE Colleges and universities – many of whom were technology purchase decision makers or influencers.
The event kicked off with a presentation by Yeo Ren Kang from ITE. Ren Kang is a lecturer with ITE, who is part of a team of lecturers responsible for the Higher Nitec in Electronics Engineering – Audio Visual System Specialisation course. Ren Kang quickly introduced guests to the course content of the AV Entertainment course and also highlighted a range of internship possibilities students may undertake.
This was followed by Muhammad Farhan, Regional Sales Manager of Crestron Singapore, who provided a brief introduction on Crestron's remarkable history and its significant milestones. He also shared Crestron's observation of three key technology trends in the education sector: the increasing demand for unified platforms in AV, the effectiveness of active/interactive learning, and the strong influence of AV over IP technology.
Raymond Yeo, Product Manager (SEA), Crestron Singapore, then elaborated on the different solutions that Crestron was able to offer in relation to the key trends. LG Electronics Singapore's Liam Yong Hao, Account Manager for Enterprise Business, completed the presentation with a run-down of the different LG solutions, including interactive touch panels.
The second part of the presentation involved a mini-showcase of the solutions which were divided into three sections – Crestron Connected, Active Learning, and Extended Space – to reflect the three trends that were presented earlier.
At the Crestron Connected section, Crestron showcased their connected AV solutions including Crestron Fusion, a monitoring and scheduling software, to address the Unified Platform in AV trend. Crestron also displayed how its control intelligence technology seamlessly embeds into popular AV equipment such as projectors, flat panel TVs, audio/video receivers, and a variety of other wired and wireless devices. These enable the different equipment to become part of the Crestron network, which allows for easy management of the different systems through just one platform.
At the Active Learning section, the combined strength of Crestron control intelligence and LG displays emphasised how easy it was to collaborate and switch between the lecturer's and students' displays. The ability to provide annotation on displays was presented by students from ITE, and Ren Kang pointed out that this function was programmed by the students themselves.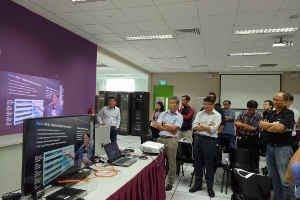 The third showcase section, Extended Spaces, was related to AV over IP technology. The focus here was on Crestron's NVX solution, which offers encoding and decoding for the streaming of audio and video with low latency. In response to a request by one of the guests to demonstrate how accurate the audio sync was with videos, a video was played back to the audience, proving that the NVX was able to handle syncing efficiently.
NVX allows content to be distributed throughout a campus using a standard gigabit network infrastructure within its local area network. With the NVX encoders and decoders, users do not need to use an AV Matrix Switcher, yet will still be able to enjoy ultra-low latency and uncompressed 4K60 4:4:4 HDR video.
Guests were left impressed with many expressing genuine interest around the products showcased. Interest was especially strong around the AV over IP solutions, as it helps resolve cabling issues significantly. The fact that Crestron NVX easily allows for its system to be configured either as an encoder or decoder also showcased the flexibility it offered users.
www.crestron.com