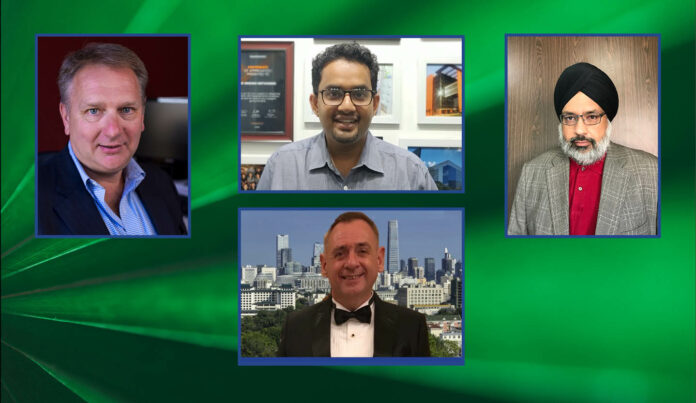 SI Asia reached out to four Consultants in the region to understand if there was going to be shift in priority for the type of solutions clients will want to integrate and the impact of telecommuting to AV needs, which might become the norm for organisations, even after the lift of lockdowns.
We thank all the Consultants for their contribution. These include Peter Hunt, Group CEO, Hewshott International; Mradul Sharma, Managing Director, 3CDN Workplace Tech Pvt Ltd; Ian D. Harris, President, ihD Ltd and Ranjit Singh, Principal Consultant – Workspace Technology, PTS Consulting Singapore. This was Ranjit's last contribution to SI Asia before his unexpected passing away on 15th May.
What do you foresee as the possible impact of COVID-19 on the design and requirements of future AV installations mainly in the areas of meeting rooms, collaboration spaces, conferencing capabilities?
Peter: I think that it's too early to predict how the current virus crisis will shape meeting rooms – currently it's shaking up the workplace and there's plenty of evidence that large corporations are reviewing their real estate strategy. The concept of whether an office is required is a wider, physiological discussion and it's largely a combined personal and corporate cultural matter. Some people want to stay at home, others want to come to work – can you design a workplace that fully satisfies both and maintains optimum productivity? If people work from home, where is the line in the sand between work and home life? Do they blur to the point of being indiscernible and is that 'healthy' for individuals? That's got to be left to the experts that study workplace strategy because there are many wider ramifications of shifting the workplace to the home, and I don't actually think that technology will be a feature of that discussion because it's now taken for granted. I strongly suspect this will be a decision made on a company by company basis and is also likely to vary geographically and culturally. What this crisis has done is demonstrate that the latent video communications technologies that are built into every mobile device (including laptops) is a powerful enough tool to maintain a good portion of business as usual. Is the future office one of hot-desks and many meeting rooms and huddle spaces? Is it more of the traditional set-up, or is it going to be entirely home working based and the days of an office are gone? Who knows.
Mradul: AV and conferencing technology will find a larger interest, not only with clients but with interior designers — technology, moving forward will be core to space planning for any office space. The new workplace will give employees huddle rooms, meeting spaces which can easily branch out to connect with remote workforce (operating out of home mainly).
In terms of actual AV design, it was only recently that we came to a design approach of 1-touch start to meetings, where more and more AV OEMs went for certifications from MS-Teams/Zoom to enable this feature. Today's circumstance demands 0-touch start to the meeting — in essence, the presence of the user in the room should start the meeting and advanced controls should be available with the user on his device. We are looking at technologies akin to what Cisco offers in terms of Proximity — a lot of innovation will happen around this in the coming days. And, staying with touch, we are circumspect about the future of touch interfaces and interactive displays with multi-touch capability — the inclusion of them into the design moving forward will be extremely difficult to justify.
Ian: The forced work-from-home situation has meant that very many people have been using Conferencing software for the first time, and even seasoned Conferencing users have been using it much more heavily.
This not only means greater familiarity with the process but also a realisation that it IS possible to coordinate, discuss etc WITHOUT meeting face-to-face. And whilst many people enjoy the process of travelling, meeting face-to-face, experiencing other cities/countries, it is a common experience that the Conferencing process saves a huge amount of time and travel-related costs, enabling those persons who are busy, to cope better with workload.
But there are also significant challenges, especially with speech-quality where users are far away from the microphone, or in reverberant rooms (usually those at
their workplaces, rather than home), making it difficult to understand what is being said, especially where not regular wording, but specifics of numbers/descriptions etc.
Camera-use is very often poor, with user's backs to bright windows and the consequent silhouette or worse. But this is not significant in the communication, and easily fixed by feedback/asking them to swivel 180 degrees!
Another effect is at the office, where there are presently, but moving forward to the post-COVID era surely continuing although to a lesser degree, many more meetings going on, and it has become difficult to sit far enough away to avoid disturbance from other meetings audio.
Let alone the realisation that Virtual Backdrops are possible, which can be helpful in the workplace for more professional backgrounds with Company logos etc, but reveals the need in reality for Green Chromakey type drapes/walls.
Ranjit: COVID-19 has boosted the reliance on Technology for individuals and companies. The meeting space will need to be enhanced by technologies to support regulations as a short term measure. The technologies that integrate for the short-term measure should be able to support future strategies of the companies.
Will there be a major impact in terms of the quick adoption of conferencing software (residential especially) and its impact of expectations in the commercial environment? Will there be less need for proper hardware + software integration system in the commercial space?
Ranjit: Lifestyles are driving trends in commercials spaces. Software codec is already being implemented and have gotten a huge boost due to COVID-19. It is difficult to separate proper hardware + software, as OEM are building their own solutions around the software codecs. The key is to create solutions that can easily integrate the hardware in commercials spaces with Laptops or PC to provide a good experience.
Ian: Conversely, this is leading to an increased demand for Conferencing Facilities, both domestically and at the office. Domestically, being equipped with at least a professional echo-cancelling Mic/Loudspeaker, and Camera, makes a huge difference in terms of frustration/embarrassment. At the office, apart from the need for additional closed- door spaces, the need for professional conferencing has led to demand for simple-to-use but capable equipment adopting beam-forming microphones/combined microphone/ loudspeakers in larger rooms to achieve the speech clarity, and sensibly-placed cameras.
Mradul: We have hailed the work of healthcare and other support workers during this crisis, and rightly so. However, we should also acknowledge the effort of IT support staff who have ensured smooth running of operations even while the workforce is remote. IT vulnerabilities around different devices (esp. personal devices) being used to work and from home are some of the serious nightmares IT support had to face.
It is evident that consumer facing technologies were better prepared for this pandemic as against corporate/enterprise tech. This pandemic, if not, will accelerate the advancements of technologies within enterprises (something that could have taken years). Some of these will include complete migration to cloud, automation (esp. using AI). Conferencing solutions will also be one of the key technologies which will be adopted if not, their exposure to the workforce is going to be significantly increased. As I have mentioned earlier, the key is to ensure that the conferencing platform helps employees to seamlessly branch out of their huddle rooms, meeting rooms in offices to remote locations like homes.
We believe there will be a larger focus on hardware+software integration in meeting rooms, mainly around the thoughts I have spoken about in the first question, that is zero-touch start to meetings.
Peter: I don't believe that there will be a major impact because that's already been achieved, however, if home- working is to become a more common theme, we need to consider technology that can support this set-up and be more corporate in look and feel. Aside from the corporate security matters (which are now less and less), I think that the issues are not around the software platforms or hardware selection, but around education on how to use the equipment. Let's face it, most of the camera/mic solutions work well, some better than others, but the environment is a noticeable change when people are working from home. Meeting rooms in an office are generally built to a standard that relays good sound and pictures – spare rooms, kitchens and dining tables are not an office environment, so elements such as noise and light play a bigger part of the overall experience than the choice of camera or VC software.
What are the possible challenges for the AV industry going forward? Will there be a change in the mindset of clients as to what are relevant solutions?
Mradul: Definition of AV-IT integration, all the while has been around how AV can sit on clients' production network. Key skills expected from AV fraternity were around understanding the network and its fundamentals (bottom three layers of the OSI model). We are looking at the future where the definition of AV-IT integration has expanded from network to application/software (top layer of OSI model).
Solutions that have worked in the past may not work moving forward — we will have to be open to accept new thoughts and ideas which will make AV systems work in a different way. And, software will be one of the key elements around this.
Ranjit: For the next 9 months, it would be adjusting to the new regulations and innovating ideas to reduce time spent at the site. Clients will try to reduce the budget and we will see only essential technology and product being implemented. The change is exponential for everyone and all of us have to adapt swiftly to this era.
Peter: There certainly will be a change in mindset for clients, but this won't be driven by the AV industry, it'll be driven by culture and productivity. What can the AV industry do to support this? Probably not a lot if I'm honest – the 'always available' and 'on the go' conferencing, whether this be from an airport or a spare room has always been there, it's just that now it's been promoted and has acquired a novelty factor and a broader acceptance. Everyone is doing it and the hilariously good (and cringingly bad) experiences have created a sense of light relief in an otherwise tense time in unchartered territory. To some extent, the experimentation component is seen as being industrious and pushing the boundaries, but this will wear off when a novelty situation becomes normal, and a company's balance sheet starts to become the focus. I suspect we will see less tolerance of poor video and audio experiences, but as alluded to above, this won't be entirely in the technology space, it'll be more environmental.
Ian: Yes, but PROFESSIONAL solutions are needed, and clients will be more aware of the various needs after their current experiences of room Booking clashes/unavailability, problems connecting and therefore being late to join, issues with audio and video, as well as realisation that the "new" conference software types being used are better than the ones they have traditionally used.
But for many corporate users, IT Compliance is super critical, let alone that staff laptops may be locked-down in terms of WiFi and USB-connectivity. This is very challenging in terms of solving/creating compliant-solutions and is not solved in one day or even a few weeks, needing much R&D and testing.
What are the possible opportunities for the AV industry, moving forward?
Ian: This relates to my answer to the above. Despite the home-solutions and simple meeting room solutions achievable through equipment from the local computer shops, there is now an increased need for professional design and IT-co-ordination in order to create viable Workplace medium-to-large rooms. Urgently too, as many companies have realised their dire need for this.
Ranjit: AV companies that have been dragging their feet to embrace IT and it's related technologies will need to relook at their strategies. The opportunities will increase for AV companies to provide solutions that can integrate into existing AV technologies to enhance safety and wellness.
Peter: The corporate market is, unsurprisingly, reviewing their real estate strategies and working out their future workplace requirements. With AV now a subset of the
IT industry (despite our best efforts to elevate the AV disciplines in the wider market) but we must ensure our voices are not drowned out. Home and remote working would be impossible without a broadband connection, a hosting platform and a laptop – all IT-centric commodities. Cameras and microphones are built-in, so where is the value that the traditional AV industry provides in this space? I'm struggling to see it, and if it's there, I am struggling, even more, to see what additional value would be derived to a user in paying for it. We really can't add value to laptops with built-in cameras and mics. But there is an opportunity.
In time, the novelty of home working will wear off and people will value the physical separation between home and work. The mental health of people struggling to separate home and work life when both are conducted in the same environment is only conquered by a handful of people in reality. For most of us, it's not an easy option especially in high-density living and those that have families at home. This will lead to a new generation of workplace environments; they will be different. The office of the future will have more, smaller meeting rooms, huddle, ad-hoc semi-formal and casual spaces, all with built-in BYOD meeting technology that is ubiquitous. These concepts are on our desks right now. The AV industry has a big role to play alongside interior designers and others as they embrace the new workplace – our job is to enhance these spaces with seamless, integrated audio and video solutions that just work.
Mradul: Opportunities for the AV industry will depend upon how well we can adapt and innovate — innovation has to come in the form of products/technologies from OEMs or for that matter unique designs and system configurations that AV designers and integrators can come up with. AV industry is going to play an extremely crucial role in office design, working alongside client and interior designers to enable safer and productive workspace.