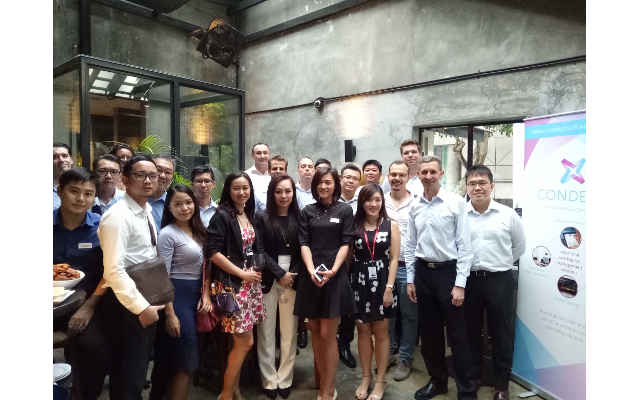 H
eld on 31st October at KPO Singapore, the event saw SIs, consultants, IT Integrators, Workspace Furnishing companies and dealers hear about Condeco Connect and mingle with the rest of the guests.
Condeco Connect is a plug-and-play meeting room booking solution. Connect is a cloud-enabled digital screen that seamlessly integrates with Microsoft Exchange. Sitting elegantly outside the meeting room, Connect enables one to schedule meetings and find the perfect space for their needs. Connect simplifies the working day and creates a better meeting experience for everyone.
The Connect mobile app uses Beacon technology to display real-time availability of nearby rooms, up to 8 hours ahead making it easy for one to find an available room effectively, using their mobile phone.
IT or management are also provided with cloud-based reporting that gives all the insight needed to make better decisions about the workspace.
Other Connect key features include:
* Plug-and-play: Easy to setup, that allows users to be live in minutes.
* Scalable and secure: One meeting room or multiple, Connect grows with business requirements making it a scalable solution.
* Mobile room booking: The Condeco Connect App allows employees to book on the go.
* RFID room check in: Our RFID card reader technology allows tap in, tap out to start and cancel meetings.
* Flexible pricing with subscription options to suit specific needs. Connect scales from entry to enterprise.
www.condecosoftware.com/apac