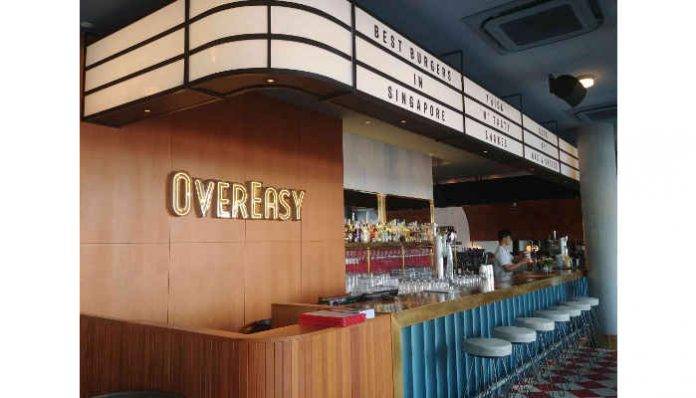 OverEasy is best described as a modern American-style diner serving up comfort food and drinks, blurring the line between drinking and dining. Owned and operated by The Lo & Behold Group, there are two OverEasy outlets in Singapore, one at Orchard Road and the other at One Fullerton Road overlooking the Marina Bay skyline.
The One Fullerton Road outlet recently upgraded its sound system that was completed in September 2017. The owners wanted a better sound experience for their guests and at the same time wanted a more permanent solution for their audio needs during events. "When they held events at the outdoor space they had to rent the sound system and they felt it would be worth their investment for their own sound system," said Case Woo of Electronics & Engineering Pte Ltd, who acted as the audio consultant for this project.
"In addition for the interior they wanted better control of volume at different zones. Their audio requirement for the outdoors and indoors differs and so specifying suitable speakers and equipment with zoning capabilities was important," added Case.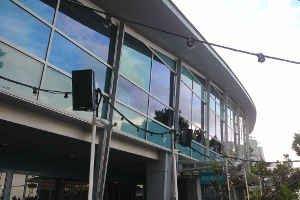 Installed and integrated by Electronics and Engineering Pte Ltd, the final specifications included the Community range of speakers. Case highlights, "They were chosen for their reputable weather resistance, aesthetic looks and sonic capability. We installed the W-series for the outside and DS-series on the inside. All speakers are powered by Powersoft QuattroCanali amps and zone control was handled via Symetrix Radius and ARC panels."
In terms of challenges in relation to the installation, Case highlights that there
were cabling issues from the equipment area on the inside to the speakers on the outside due to structural limitations but that they were able to get approval for hacking the floor to run the cables. "Other than that, this installation went smoothly with no major issues."
Four units of the Community W2-228T compact carbon fibre 8-inch quasi 3-way speakers with 3-layer Weather-Stop grille, that each provide 85 degree dispersion pattern, are installed on the high-table dining side of the Outdoor Deck. XLR-input panels at two strategic locations also allow for the input of their existing EAW VRS18 subwoofer during featured DJ nights. Another four units of the 2-way variant model W2-218 provide lower volume music fill for the low-table family dining side of the Outdoor Deck.
The Indoor Dining Room features seven units of the surface mounted 8" 2-way model DS8 with 115 degree conical dispersion, complimented by three D10-SUB ceiling flush mounted subwoofer, for covering both the Low Lounge and High Lounge dining areas.
"The Community speakers belie their size as they are powerful and reproduce clear sound. The clients were pleased that we had met their objectives effectively," continued Case Woo.