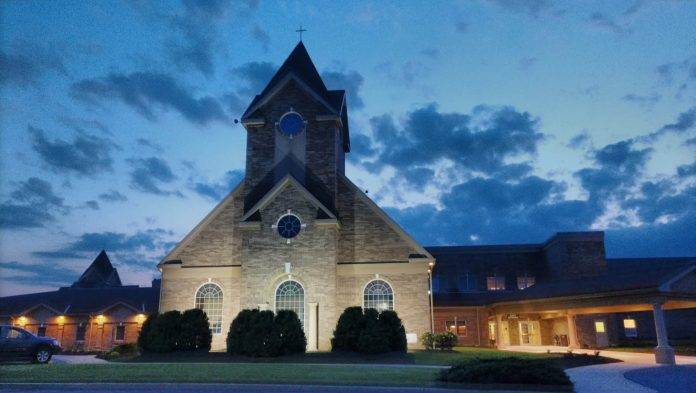 Calvary Church in Pennsylvania, USA, is a non-denominational house of worship with a lot of heart and room for nearly 2,800 congregants.
The fact that it fills its sanctuary not once, but twice a weekend speaks to the connections it successfully establishes and maintains among the members of the Lancaster, Pennsylvania, community.
Although Calvary Church's services involve all of the elements of a contemporary approach, including high-definition IMAG, a live band, and online streaming, it takes a softer approach and blends plenty of traditional elements as well, including a choir and orchestra.
As one of the largest venues in the area, Calvary Church also opens its doors to outside groups and events, such as local high school graduations and (mostly Christian) concerts.
Because of Clair Solutions' staff's expertise and cheerful willingness to provide helpful demos, the company has been Calvary Church's preferred AVL integration firm for over a decade and helped pilot the church through its most recent – and most significant – technology upgrades.
"The philosophy of Calvary Church is that anyone from age 1 to 101 should feel welcomed and engaged in its services and community," explained Bill Simmons, Senior Lighting Designer with Clair Solutions. "They want to be inclusive of all the demographics. That said, they toe a trickier line with regard to technology; just enough, but not too much. As a result, the staff members at Calvary Church don't jump into anything that they don't already fully understand."
"At Clair Solutions, we respect where they're coming from and are happy to provide an abundance of models and on-site demonstrations so that they can feel confident in all of the decisions they make."
Danny Olah, Video System Designer with Clair Solutions, agreed, "The folks at Calvary are methodical. They like a thorough run-down of all their options and then a demo of the top few."
Olah oversaw the design and installation of Calvary Church's impressive 'Communications Wall,' which uses over 20 screens in the church's lobby to convey events, missions, information, and general announcements for parishioners and community members.
"The original idea was to send a standard single stream of digital signage to some small number of repeated screens," Olah said. "But given the sheer volume of things going on at Calvary Church, it would have been overload."
"Together, we came up with the idea of different streams to a larger number of screens, with each screen or group of screens dedicated to a particular class of events or information."
With an eye to the future, Olah designed the 'Communications Wall' using modular, clip-on panels in an aluminum frame. That makes it easy to add, move, or remove screens or to change the entire aesthetic by simply popping in different panels (the wall currently uses a scalloped medium wood aesthetic).
The latest round of renovations at Calvary Church centered on the main auditorium and involved big audio and video upgrades, along with more modest improvements to the lighting that were strategically optimized to support the quality of video capture. "The old sound reinforcement system was about 25 years old," explained Joe Holcomb, Project Manager with Clair Solutions.
"There were missing and dysfunctional pieces, along with loudspeakers aimed in a variety of less-than-ideal directions." Clair Solutions worked with the church to come up with a solution on a budget that would still provide even coverage, great intelligibility, and impactful music reproduction.
In the end, they called on sister company Clair Brothers to source a gently used Clair Global i-3 line array along with Clair Brothers FF2s, kiTCurve12s, and CS218 subwoofers powered by Lab.gruppen multichannel amplifiers with integrated Lake processing.
As part of their support, the staff at Clair Solutions rendered mock-ups of new screen locations, along with the visual impact of the new line array, but from there, things took a very "hands-on" turn.
"Almost everything related to the new video system included at least one, and often times several on-site demos," Olah said. "We demoed the new Digital Projection HIGHlite LASER II projectors. We did several camera demos, and when we all agreed on Panasonic AWUE70WPJ and AJ-PX800G cameras, we scheduled additional demos to pick the best lens for the distance and lighting conditions.
"That demo had a big impact on their choice, because without it, they would not have understood the trade-offs involved in a longer lens for a tighter shot and additional light for a clearer image. Once they understood that, they could justify the greater expense of the Fujinon XA20sX8.5BERMs that we all decided on."
Via this careful process, Calvary Church went from a single, static shot of the entire sanctuary from way back at the FOH booth to dynamic, intimate video from multiple cameras.
This setup engages attendees through IMAG projections via two Da-Lite screens and provides compelling streaming for house-bound congregants, congregants who wish to re-watch or share a service with friends, or curious people in Lancaster and the wider world. Of course, Clair Solutions upgraded all of the sanctuary's video backend, moving from old VGA to new SDI infrastructure.
Because the lighting in the sanctuary was already in decent shape, everyone agreed to a series of relatively simple upgrades to support optimal video capture, saving money to allocate to the more critical audio and video needs. New ETC fixtures filled in where needed with new dimmer racks.
Phil Spreadbury, Technical Arts Director at Calvary Church, enthusiastically shared, "Our experience with Clair Solutions over the last decade has been nothing short of fantastic! Their customer service is second to none."
"Every step of the way their team has listened and offered the industry's best solutions for our needs."
"Our most recent project included significant changes to our auditorium and Clair Solutions understood how important it is to be good stewards of our facility and resources, and to be thoughtful about how all of those choices impact our guests and church family. This required a great deal of patience as they walked with us through a number of important decisions."