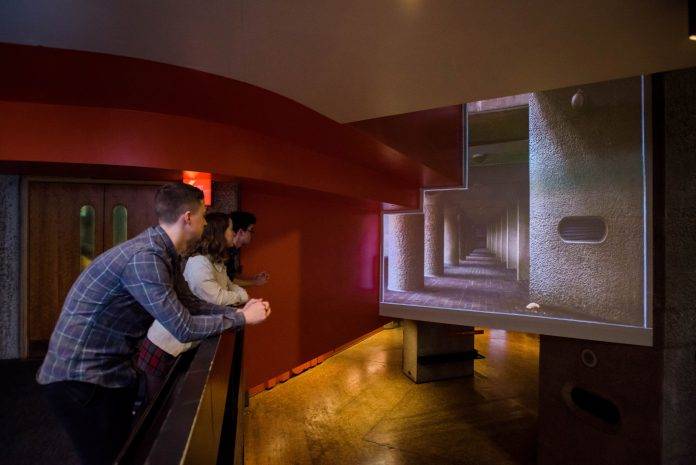 2
Christie HS Series laser projectors and Christie Pandoras Box media player created a digital corridor at London's Barbican. The commissioned space is a two-story slanted wall in the main foyer that
can be seen from several floor
s. The images are managed and controlled by Pandoras Box to match and
complement the architecture of the space
.
This is the first co-commission with the Lumen Prize. Recognized as the world's leading award for digital art, The Lumen Prize is co-curating projection-based art using Christie technology for the Barbican's public spaces.
Christie and the Barbican have a long-term partnership and a shared belief in the marriage between art and technology – a vision shared by Lumen Prize founder Carla Rapoport who said projectors can transform an entire space and "allows us to go so much further than we ever could with screens or, dare I say it, with oils or watercolors."
For this project, the Rachel Ara-designed artwork features an orange hairpiece dancing in the wind in perpetuity around the Barbican Estate, echoing the iconic scene from Sam Mendes's American Beauty in a 'Trompe L'oeil' (Deceives the Eye).
The commissioned space is a multi-story slanted wall in the main foyer and uses 2 Christie HS Series 1DLP projectors and Christie Pandoras Box to match the real architecture of the Barbican.
Despite the pebble-style wall and high ambient light, Christie technology met all requirements. And, thanks to Pandoras Box, the artist was able to program the content to adjust for the changing sunset times every single day for months ahead and switch projection from day to night content automatically.
The system also put in time fades to smooth the transition between the day and night projections as well as turning the projectors off. "Rachel's creative use of the technology was one of the deciding factors in choosing her from a shortlist of three artists. Using the Christie projector and media player, she was able to precision map the wall the work is projected on. Less advanced AV technologies wouldn't have been able to support her vision," said Rapoport.
"With the blend, light and sunset timings, she was able to create an experience in the space. And the proof is in the pudding – the work has been so popular that it's been extended a further two months. I'm continually amazed at both the tools to create content and display it."
Her words were welcomed by Christie's James Belso, who said, "What better validation, just a short time into our partnership with the Barbican, than to have the involvement of such a visionary global force in digital art. Technology is enabling new and different forms of shared audience experiences."
This is the latest of several Christie technologies – from projection to flat screens and media servers – that have supported content in partnership with the Barbican.
"This includes Christie 3DLP projection showing footage taken with the extraordinary technology from military-grade thermal cameras, as well as restored analogue archive footage from the BBC," said Belso.
"Additional works include a television production company that created works for 6 Christie Captiva laser projectors and Christie flat panels used for an interactive piece where visitors could experience the mission control from the Oscar-winning film 'The Martian.' In addition, Christie laser projectors and Christie Pandoras Box and Christie Widget Designer have been used continually for artworks in the public spaces for over a year and a half."
"Our first installation using Christie laser phosphor projectors was voted People's Choice Award in the Lumen Prize. It was a huge 3D projection on a sculpture called Numina by Zarah Hussain. It was Zarah's idea that the Lumen Prize meet us," said Sidd Khajuria, Senior Producer, Barbican. "Carla, Jack (Addis) and I walked round the building looking at the projection spaces and the idea of them commissioning pieces came from that initial conversation."