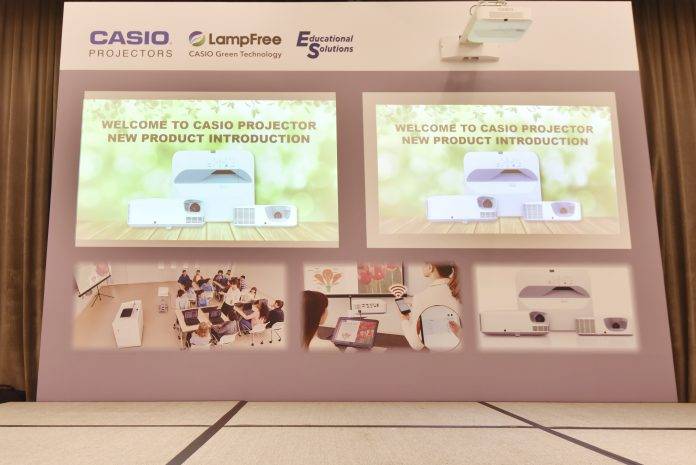 Casio gathered distributors, partners, invited SIs, consultants and end-users on 18th March at the Goodwood Park hotel in Singapore to unveil its new 4000-lumen WUXGA Projector Superior Series that offers pragmatic Educational Solutions features.
Casio showcased its new 4000-lumen WUXGA Superior XJ-S400 Series with Educational Solutions features built into the network model, to its line-up of lamp-free projectors that use no mercury lamp. The Educational Solutions features are optimized for today's ICT classrooms where students actively use PCs and IT devices.
These include One Click Connection, which allows PCs to connect to the projector wirelessly in a single step; Moderator, which allows collective control of projected content from up to 40 devices; and Auto Projection OFF, which automatically turns off the projector display when no input signals are detected.
Casio's One Click Connection takes away the stress of cable connectors and adapters,with wireless connection made easy for everyone in the classroom. Teachers can start their lessons right away without the hassle of connecting cables or going through complicated wireless setup.
Once students are connected, the Moderator Function allows teachers to control whose PC to project from their own smart phone or tablet. Teachers can also remotely operate their PC and the projector from smart devices. This frees teachers from their PC desk and allows them to circulate among the students to facilitate learning. Lessons can be conducted in a variety of classroom layouts thanks to the wireless connection.
In addition, with Auto Projection OFF feature, the work of school IT managers is reduced as they no longer need to go to each classroom checking for projectors that someone forgot to turn off.
The XJ-S400 series features 4 models: XJ-S400UN / XJ-S400WN / XJ-S400U and the XJ-S400W.  All models feature:
* 4000-lumen brightness with new R-Hybrid Light Source
* WUXGA resolution (XJ-S400UN and XJ-S400U) or WXGA resolution (XJ-S400WN and XJ-S400W)
* 1.7x optical zoom
* Noise reduction, filter-free dust-resistant design, size reduction with Advanced Cooling Structure
* No lamp and filter replacement, eliminating inconvenience and saving costs
* Environmental impact reduced by going mercury-free
Watch how these Educational Solutions help in the classroom: https://web.casio-intl.com/projector/educational_solutions/