I
n 2018, Nashville was one of only three U.S. cities to see year-over-year growth in new hotel construction. Of the more than 5,000 new rooms built, 81 of them are found in the
Fairlane Hotel
, a retro-modern boutique establishment offering upscale lodging with design accents reminiscent of the 1970's.
While much of the aesthetic is a throwback to "the golden age of travel," it's juxtaposed with the latest in modern control technology — specifically the ELAN Control System that provides penthouse guests with remote control of lighting, TV, and multi-zone audio.
According to Chris Torri, Managing Partner of AVLX, the electronics integration firm that designed and installed the hotel's digital infrastructure, the owners wanted to deliver a posh experience for premier guests staying in the penthouse level, while also giving hotel staff simple, immediate access to manage an eight-zone audio system for the hotel's common areas.
"Competition is tough in Nashville," Torri said, "so the Fairlane Hotel wanted to do something different, something that would stand out in the eyes of top-tier guests."
"The Penthouse level was the perfect place to integrate the latest control technology from ELAN,
providing guests a seamless lodging experience that lives up to or surpasses the technology in their homes without intruding on the rooms' design aesthetic."
The hotel's two penthouses are accessible by a private elevator, and each uses an ELAN system to deliver remote control of Lutron lighting and Sony TVs in the living room and bedroom.
With ELAN WiFi remotes, guests enjoy fast selection and control of video sources and lighting zones. The East Penthouse and West Penthouse rooms, coming in at 1,125 sq. ft. and 680 sq. ft., respectively, each offer huge outdoor terraces complete with a natural gas fire pit and outstanding city views.
"In addition to TV and lighting control," Torri continued, "groups who rent one or both penthouses for special events can connect their own media devices to the ELAN system through an HDMI input and play multi-zone audio through the in-ceiling and outdoor speakers to deliver distinct zones of music, so they can have different atmospheres or volumes inside and outside."
"It's all super simple to control, and hotel staff give guests a brief overview of the ELAN system and its capabilities when they begin their stay."
The larger East Penthouse includes a wall-mounted ELAN TP7 touch panel that is used exclusively for special events. It offers the same controls as the remotes, with added access to audio inputs that allow live performances from musicians or other entertainers. The TP7 is password protected so that only the event-specific guests can access it.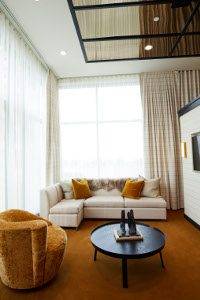 Beyond the Penthouse level, AVLX designed and installed the low-voltage and wireless infrastructure for the entire hotel. An additional ELAN system manages 8 zones of audio throughout the property, giving managers instant control of the music playing in the main lobby, valet stand, gym, coffee shop, deli, elevator lobbies, and two boardrooms.
A Ubiquiti wireless network delivers internet access and also ensures reliable operation for the ELAN systems that rely on Wi-Fi communication.
"It was vital that all the electronics are simple to use, ultra-reliable for everyday operation, and easy for us to troubleshoot should any issues arise," Torri added.
"Those needs made ELAN the perfect fit, because it has the easiest interface of any modern control system and allows remote access so we can log in to quickly diagnose and fix any issues."
"For us, this limits the cost and time involved in ongoing service, while also greatly reducing our programming requirements, since ELAN can be fully configured much faster than competing control systems."