T
his year's BoschVille event turned its focus to Connected Solutions as a whole, with the second instalment of Bosch's flagship IoT conference showcasing the company's latest in smart technology through interactive exhibitions, workshops, keynotes and panel discussions with industry experts.
The event included four main exhibition areas:
Smart Workshops showcasing Bosch's smart automotive workshops that run with Connected Repair and Augmented Reality (AR), allowing technicians to have faster diagnostics and shorter repair time with improved quality.
Smart Mobility walkthroughs that showed how travelling could be made better, beginning from inside the vehicle with an integrated vehicle system and first-to-last connectivity solutions.
Connected Living – an exploration of how homes and buildings could be made faster and smarter through connected solutions that enhance comfort, energy efficiency and security.
Digital Transformations showcasing how the automation of processes based on real-time needs as well as the collection and analysis of data can help businesses to make better products.
Bosch also signed a Memorandum of Understanding (MOU) with Singapore Polytechnic (SP) to be part of the tertiary education institution's Advanced Manufacturing Partners Network. Joining its partner SP, Bosch developed two new labs – the SP-Bosch Smart Connected Solutions Lab and SP-Bosch Rexroth i4.0 Innovation Lab. These two labs are equipped with high-tech Bosch equipment and technologies, and are based on SP's campus grounds.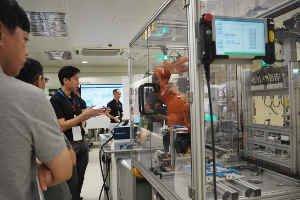 An example of this technology is the scaled-down version of an actual Smart Factory system that reflects the future of production and distribution in manufacturing companies. With this, students can learn to programme and integrate smart sensors with AR into the Smart Factory System, analysing and tapping into big data to further optimise the manufacturing process.