BenQ has unveiled its revolutionary Smart Projectors for Business, designed to unleash the potential of visual displays and facilitate business communications in the growing Workstyle Reform and BYOD trend. The event took place in Ho Chih Minh, Vietnam.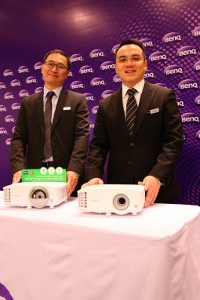 The new Smart Projectors cater to multiple needs in the modern meeting rooms, from professional wireless presentations, video conferencing, collaboration, to USB direct reading to maximize efficiency and productivity.
"As the workplace is transforming into a more agile, connected and flexible environment with the BYOD trend, we see the growing needs for a smarter, mobile-device friendly projector in the corporate world that welcomes everyone to share ideas wherever and whenever they want", said Jeffrey Liang, President of BenQ Asia Pacific.
"With the launch of the new Smart Projectors with our integrated corporate display solutions, BenQ believes that we will further strengthen our position in the Vietnamese market, after registered 26% growth rate in overall projectors sales quantity 1H 2019, and gained the No. 3 position in the Interactive Flat Panel market."
Smart Projectors for Instant Wireless Presentation
Equipped with an intuitive, user-friendly operating system, BenQ Smart Projectors for Business are pre-loaded with useful business apps to increase productivity, supporting effortless upgrade of the firmware via Over-the-Air (OTA) and remote controller app for the smartphones.
In addition to easy wireless mirroring across multiple platforms and devices, it's convenient to hold video conference via the Blizz app, search for inspiration on Firefox browser, create collaborative documents via WPS Office, or control other devices remotely from TeamViewer.
Besides the standard throw models EH600, EW600 and EX600 with resolutions from Full HD, WXGA to XGA, the short throw models EX800ST and EW800ST (pictured) provide even more comprehensive management apps including X-Sign Broadcast, Account Management System (AMS) and Device management Solution (DMS).
Users can access their personalized files on the cloud via AMS, while IT managers can easily manage accounts and devices all at once, or deliver instant messages to the projection screens of any meeting room equipped with BenQ short-throw Smart Projectors, as well as to Interactive Flat Panels.
Creating a Smart Campus with BenQ Education Display Solutions
In additional to the launch of new Smart Projector for Business today, BenQ also showcased the updates of its powerful ClassroomCare Interactive Flat Panels, to facilitate the development of students' problem solving, creative thinking, and logical thinking skills.
X-Sign Broadcast, available on both IFP and Smart Projector EW800ST/EX800ST, allows IT personnel to remotely broadcast school news instantly, while DMS enables easy management of displays via a local network or on the cloud.
Teachers can save time by accessing their personalized teaching materials through AMS on the cloud, while the Board-to-Board function under EZWrite allows students to discuss, annotate and collaborate on multiple IFP simultaneously, whether in the classrooms or remotely.