The Belle Salle Roppongi Conference Center opened its doors as a for-hire conference venue in August 2016. Situated in the Roppongi area, a prime location in central Tokyo which is also base for many multinational companies, the Center offers luxurious facilities and highest spec equipment for seminars, lectures, exhibitions, and conferences. The venue is comprised of nine conference rooms, A to H. Moveable partitions allow to create a total of up to 22 different room configurations, catering for any size event.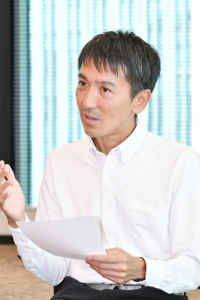 "Out of all the conference venues our company oversees, the Roppongi facility has one of the best audiovisual systems," explains Toshiharu Kasai, Facility Operations Manager at Belle Salle. "In terms of microphone systems, we required a wireless solution for five of our nine conference rooms. The system had to operate license-free and handle 20 channels simultaneously – four channels per room. Sanken Systems, who handled the AV installation, recommended the Shure Microflex Wireless System to meet our needs."
Microflex Wireless makes use of the 1.9GHz band (DECT band) and does not require a license. However, in Japan, cordless phones and PHS, for example, use the same frequency band, which creates the possibility of interference. Microflex Wireless resolves this potential issue through Automated Frequency Coordination. The system continuously scans the spectrum and coordinates available frequencies for all microphones. What is more, since the release of firmware version 5.1.23, Microflex Wireless is able to avoid PHS interference through PHS Detection and Exclusion functionality which enables the system to automatically avoid frequencies used by PHS. MXW can also operate in High Density Mode, which effectively doubles the number of useable channels. Depending on region, this means that up to 160 channels can be operated simultaneously (max. 80 channels in Japan).
Kasai was also impressed with the attentive after-sales service provided by Shure. "From the moment it was installed, Microflex Wireless worked perfectly. However, we were asked by our clients if we could shorten the system start-up time. Shure promptly sent a representative to provide on-site adjustment and even offered us additional recommendations to improve the stability of our system."
He continues, "Up to this point, we had experience with Shure's wired microphones, like the SM58, but this was the first time we had used one of their wireless systems. My experience with Microflex Wireless has now shown me several advantages over other systems. One overwhelming advantage is the sound quality, which has also been commended by our clients. We also appreciate the easy-to-use linking functionality – when microphones get moved between rooms, we can simply pair them with the new, local Access Point by docking them into the Networked Charging Station and pressing the "Link" button. This makes operation so much easier."
Incidentally, the Microflex Wireless Charging Station serves a docked charging and storage purpose, so that microphones are always ready to use and don't run out of power. Fully charged, Microflex Wireless Transmitters will run for nine hours.
With the adoption of AES-256 encryption technology, there is also no need to worry about confidentiality. Kasai explains, "because we are a for-hire venue, we host a variety of people and groups. Prior to adopting Microflex Wireless, we would use wired microphones and other security measures for clients concerned about confidentiality; however, that is no longer necessary".
The Microflex Wireless System from Shure provides the same high level of reliability and stability found in Shure wireless systems the world over. To that, it adds browser-based software enabling control over all settings and comprehensive, remote monitoring of system status parameters. Further, the Microflex Wireless System can be easily incorporated into corporate networks using standard networking protocols.